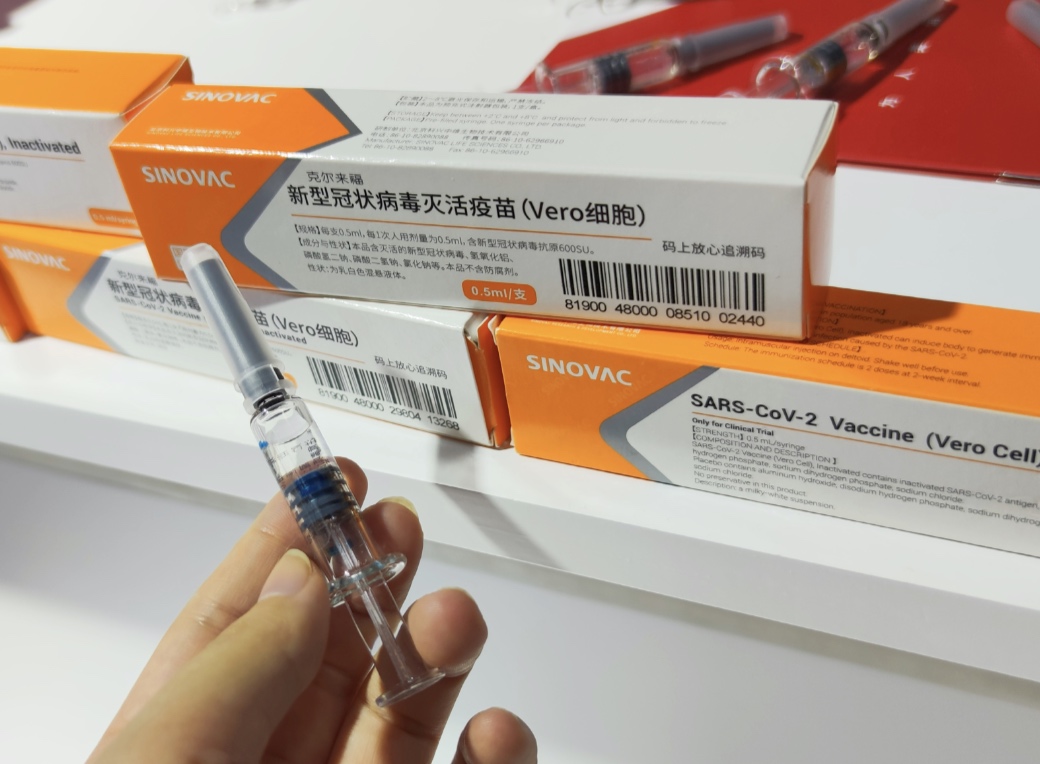 COVID-19 Vaccine - photo by Sun Yuan
There are 10 Vaccines in Phase III Clinical Trials Globally
At a regular briefing of COVID-19 on October 12 local time, WHO chief scientist Sumiya Swaminathan said that progress in clinical trials of COVID-19 vaccines around the world was encouraging.
About 40 vaccines are currently in clinical trials, 10 of which are in phase III trials.
The Dates of the vaccine are expected as early as December to the next year, with results from multiple clinical trials expected in the next six to twelve months.
The Progress of COVID-19 Vaccine in China
China currently leads the world in the development of COVID-19 vaccines, which are expected to be on the market by the end of 2020.
On January 24, 2020, China CDC successfully separated the first virus strain of Novel Coronavirus in China.
A team led by Chen Wei, a member of the Academy of Military Medicine under the Chinese Academy of Military Sciences (CAS), has been approved to start clinical trials of a recombinant COVID-19 vaccine on March 16.
On 13 April, China Novel Coronavirus vaccine entered clinical trial phase II.
On August 20, China biological inactivated vaccine clinical trials of the new champions league start in Peru.
On September 5, two kinds of domestic inactivated COVID-19 vaccines were presented at the China International Service and Trade Conference (服贸会). Both vaccines have entered phase III clinical trials, with a total of 300 million doses in vaccine production workshops.
China's COVID-19 vaccine production line was also undergoing intensive commissioning and installation while the subjects were undergoing clinical trials, CCTV news reported. According to officials, technicians will be able to complete a canning trial of 30,000 doses of the vaccine in an hour and a half, with three production lines capable of producing 800,000 doses a day and 300 million doses a year.

The Latest Situations of COVID-19 Vaccine in Other Countries
Here is a clear progress chart of the different countries and different speed, all the steps will be divided into "research, test, experiment, put into production." 1.
United Kingdom
Phase III testing of the COVID-19 vaccine at Oxford University has been suspended. (Sep. 10th)
According to relevant reports, people who have been vaccinated were suspected to have severe adverse reactions or motor, sensory or neurological dysfunction.
2. United States
Johnson & Johnson company has paused its COVID-19 vaccine study because one of its participants was taken ill (Oct. 13th).
3. Russia
Russia has become the first country in the world to register a COVID-19 vaccine, Russia's health minister said on 11 August 2020. The third phase was launched on August 12, will involve thousands of people and will last for about five months.
COVID-19 Vaccine Has Been Available for Appointment in Beijing and Wuhan.
According to sources familiar with the matter, COVID-19 vaccine has been available for appointment in Beijing and Wuhan.
The person making the appointment will be notified about 2 weeks later and will go to the designated place for injection. It is understood that although all people can make an appointment, the company will give priority to overseas students, especially those who need to go abroad from November this year to January next year.
According to the latest news, China has provided free influenza vaccine for Beijing citizens, and many areas have also provided free influenza vaccine for medical personnel, the elderly, children and other people. This shows that influenza prevention and control of influenza vaccination within this year are also particularly important.
Beijing yesterday began a free flu vaccination campaign for the elderly aged over 60 and primary school students. It will continue until November 30.
Which Groups of People are Preferred for COVID-19 Vaccine in the Future? vaccinee
In order of priority, the first level is health care workers and first responders.
The second category is vulnerable groups in health services, including older people living in overcrowded conditions and those already suffering from multiple conditions, such as severe heart disease or diabetes, that put them at higher risk of COVID-19.
The third level of the distribution plan takes into account workers in industries with high-risk exposures, such as public transport, because the nature of the work leads them to come into contact with more people.
Let us look forward to the day when the COVID-19 vaccine comes out, and our China Train Booking Team will continue to follow up and update it.
Further reading:
Hong Kong – Shenzhen/Futian High-Speed Trains
China High-Speed Train/Rail Guide
How to Buy China Train Tickets