For international travelers, taking high-speed trains to travel around China is a smart choice. Basically, all the classic travel destinations have high-speed trains connecting them, such as Beijing – Xi'an, Beijing – Shanghai, and Beijing/Shanghai – Guilin.
However, there are three high-speed train types and seven seat/sleeper classes to choose from when booking your train tickets. What are the differences between these three trains and seven classes (on-train facilities, speed, and price)? Which train type and seat class suits you the most? Here, we've explained all of the information you may need to know to help you make your choice.
First, Search for the High-Speed Trains in the Schedules
When you search Chinese train timetables, you may find that the train numbers start with different letters, such as G, D, C, and K.
This is because in China, we use letters to differentiate the different train types.

There are three high-speed train types in China: G-trains, D-trains, and C-trains.
Therefore, if you want to book a high-speed train ticket, you need to select the train numbers starting with G, D, and C.
You are recommended to use the booking platforms, such as our China Train Booking app, with a filter function to help you search for the trains quickly.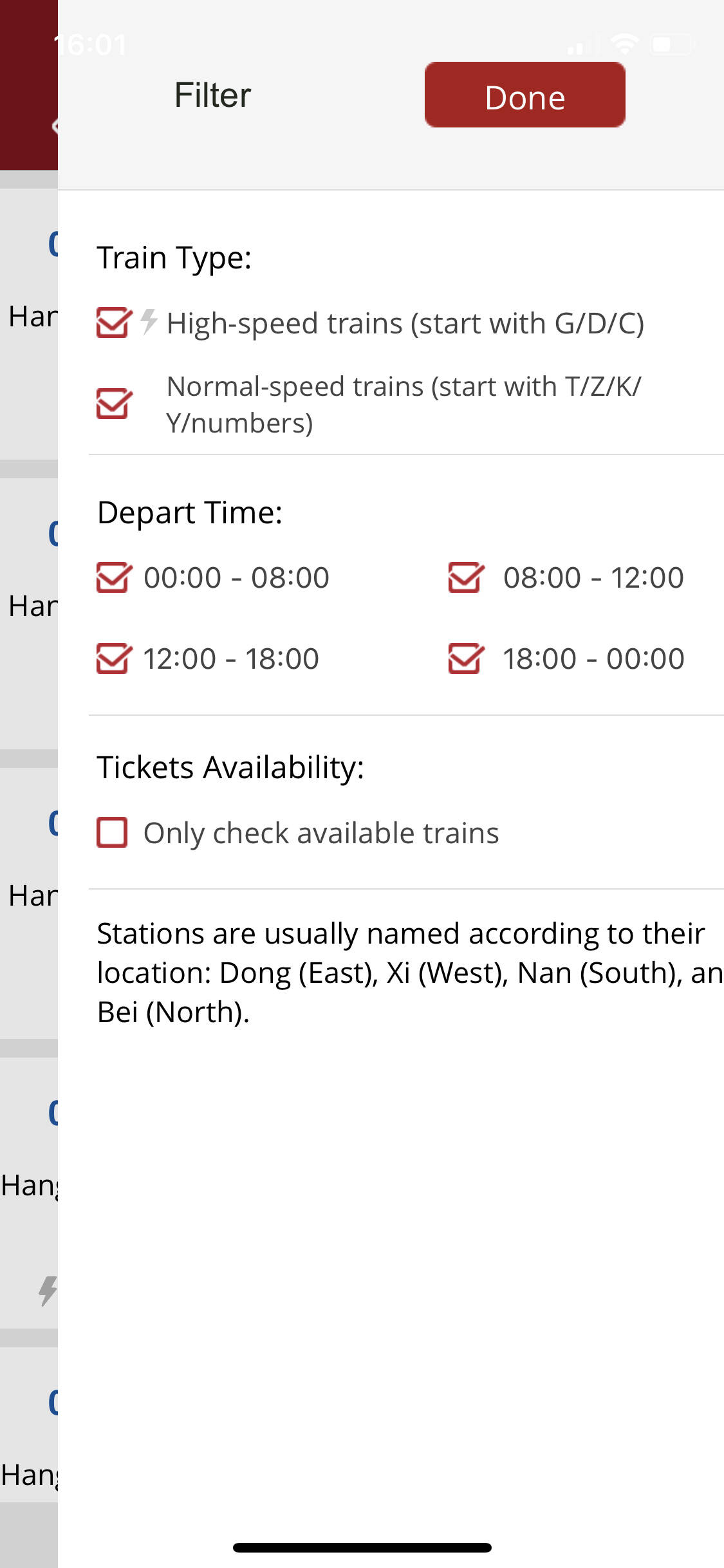 Basic Facilities on High-Speed Trains
Before getting to know the differences between G-, D-, and C-trains, let's first learn their common basic facilities.
Here, we've listed some basic facilities on high-speed trains no matter which train type and seat class you choose:
Seat: A soft, adjustable seat with a foldable tray table in front and 220V charging sockets under the seat.
Toilet: Both Chinese-style and Western-style toilets are located at the joint of two cars.
Baby care room: A spacious room with a Western-style toilet, sink, and diaper changing table (there is only one baby care room on each high-speed train — it's recommended to ask a train attendant for its car number).
Dinning carriage: The dining carriage is often at carriage No.4 or 5 on a high-speed train. You can always ask the train attendant where it is. Check more details by reading Food and Beverage on China's Trains .
Baggage area: There are overhead baggage racks as well as baggage cabinets between every car.
>>> Baggage Allowance of China Railway
What the Differences Are Between G, D, and C High-Speed Trains
| | Speed | Characteristics |
| --- | --- | --- |
| G-Train | 290km/h-350km/h | Fastest, better facilities |
| D-Train | 200–250 kph | A little slower than G-trains but faster than C-trains |
| C-Train | 160–200 kph | Intercity high-speed trains |
G-Trains (Gāotiě /gaoww-tyeah): the Fastest Train Type A G series train in China
As the fastest train type in China, G-trains operate at a speed of up to 350 kph, and they usually operate between major and popular cities.
G-trains drive on ballast-free tracks, with leading and advanced operational outfits. There is little noise and vibration, which makes for a quiet and comfortable train experience.
Popular G-train routes:
Beijing–Shanghai: 10 G-trains daily, about 553 yuan for a second-class ticket
Beijing–Xi'an: three G-trains daily, about 553 yuan for a second-class ticket
Shanghai–Xi'an: two G-trains daily, about 669.5 yuan for a second-class ticket
Search online China train schedules and book your tickets now!
D-Trains (dòng chē) — Cheaper but Only a Little Slower Than G-Trains "Hexie Hao" bullet train
The speed of D-trains is a little slower than G-trains, with an average speed of 200 kph and the highest speed of 250 kph. In most cases, their price is cheaper than G-trains.
D-trains have many stops along the route. From big cities to small counties, they basically have it all covered.
Some D-trains have sleeper carriages for long-distance routes, such as Beijing to Shanghai and Chengdu/Chongqing to Shanghai.
Popular D-train routes:
Guilin–Guangzhou: 40 D-trains daily, about 135 yuan for a second-class ticket
Guilin–Guiyang: 37 D-trains daily, about 161 yuan for a second-class ticket
Chengdu–Chongqing: 28 D-trains daily, about 96.5 yuan for a second-class ticket
Search online China train schedules and book your tickets now!
C-Trains (chéngjìlièchē) — Running Between Two Neighboring Cities
C-trains are intercity trains running between adjacent districts/cities. Some big cities also have C-trains running between their city center train stations to airports.
The speed is usually less than 200 kph and distances are short, as are the trip times. Taking a C-train is like taking a subway train. There is no seat arrangement — you just need to buy your ticket and find a vacant seat.
Popular C-train routes:
Guangzhou–Shenzhen: 91 C-trains daily, about 79.5 yuan for a second-class ticket
Guangzhou–Zhuhai: 64 C-trains daily, about 70 yuan for a second-class ticket
Beijing–Tianjin: 118 C-trains daily, about 54.5 yuan for a second-class ticket
Search online China train schedules now!
Three Main Series: Hexie Hao, Fuxing Hao, and Vibrant Express
There are three main series of high-speed trains: Hexie Hao serves both D- and G-trains (Chinese: 和谐号, English meaning: Harmony Series): It's the most frequently used high-speed train series in mainland China.
Fuxing Hao only serves G-trains (Chinese: 复兴号, English meaning: Renaissance Series): It's the fastest commercial use high-speed train type in the world with a speed of up to 400 kph.
Vibrant Express only serves G-trains (Chinese: 动感号): Vibrant Expresses run on the high-speed rails between Hong Kong and cities of Guangdong Province, such as Hong Kong – Shenzhen and Hong Kong – Guangzhou.
7 Types of Seats/Sleepers on High-Speed Trains
Generally, there are three main seat classes on high-speed trains: business class, first class, and second class.
Some D-trains also provide two common sleepers: a soft sleeper and a new soft sleeper.
There are also two less common classes: a superior-class seat and a deluxe soft sleeper.
However, not all seat and sleeper types are available in each train, so here is a table explaining which seat classes are available on G/D/C trains:
Available Seat\Sleeper Types on Different High-Speed Trains
G-Trains
D-Trains
C-Trains
Second Class Seats
√
√
√
First Class Seats
√
√
√
Superior Class
√
√
Business Class
√
√
Soft Sleeper
√
Deluxe Soft Sleeper
√
1. Business-Class Seat: the Most Deluxe Seat Class
This is the most high-grade seat type on China high-speed trains.
With a luxury, modern, and comfortable environment, a top service, and a quiet space with less passengers, its cost is the highest.
Car layout: three seats in a row — two on one side and one on the other.
VIP waiting lounge: Passengers with business-class tickets can wait to board in the VIP waiting room. It's quiet and comfortable with free beverages and snacks.
Seats: The seats are sofa-like and can be fully reclined. The fully expanded length is about 180–190 cm.
Facilities: Each seat's left armrest is fitted with a TV. A reading lamp and small pillows are also included.
Free benefits: a pair of disposable slippers, beverages and snacks, box meals during the dining hours. 2. Superior-Class Seat: Close to the Cockpit — You Can See What's Going on in There
A superior-class seat is also called a sightseeing seat because the wall between the superior car and the cockpit is transparent. In this car, you can see what's going on in the cockpit and enjoy the view from the front of the train.
The on-train facilities in a superior-class car are similar to those in a business-class car. 3. First-Class Seat: a Reasonable Price with a Comfortable Journey Experience
A first-class ticket is much cheaper than a business/superior-class ticket; however, you can still enjoy a comfortable journey with a quiet car environment and adequate space.
Car layout: There are four seats in a row — each side has two seats.
First-class seat waiting area: Some new and big stations have first-class seat waiting areas. This is an open-type section that is separate from the public waiting area and it is usually equipped with sofas, free beverages, and charging sockets.
Seats: The seats are soft and can be adjusted to a larger angle than second-class seats. The seat width is about 48 cm and the backrest height is about 80 cm.
Facilities: a foot pedal, a tray table in the armrest, a public TV 4. Second-Class Seat: Cheap but More Comfortable Than Economy Class on an Airplane
A second-class car is similar to economy class on an airplane; however, it's less crowded and the seats can be adjusted to a bigger angle. There are no doors between two second-class cars; therefore, it might be a little noisier than the other classes.
Car layout: There are five seats a row — three seats on one side and two seats on the other side.
Seats: The seats are smaller than first-class seats. They are fairly soft and adjustable.
Facilities: tray table from the back of the seat, public TV Standing tickets:
There is another ticket type called a standing ticket. Its price is the same as a second-class ticket. When all the seat tickets have been sold out (which is very common in China if you book your train tickets too late), you can choose a standing ticket if your trip isn't very long. There is an assigned car on your train tickets but it's okay for you to stand in other cars.
There are also two ways to find a seat if you are holding a standing ticket:
1. After boarding the train, ask the train attendants to update your standing ticket to a seat ticket if there are any seats available (some passengers may cancel/reschedule/miss their trains).
2. Find a temporary vacant seat to have a rest but be sure to vacate the seat if the passenger who has booked it boards the train.
You are recommended to use our China Train Booking app to book your train tickets and get your ideal seat type within just 3 minutes!
5. New Soft Sleeper (Private Sleeper): Like a Capsule Hotel
The new soft sleeper is called Dong Wo in Chinese, which means D-train's sleeper. Different from a traditional soft sleeper, its berths are parallel to the hallway. There are no independent compartments and the berths have double bunks, which are arranged in two rows.
Compared to other sleeper berths, new soft sleepers are more private: each berth has a bed curtain, reading lamp, TV, tea table, and coat hook. It's like a mobile capsule hotel. 6. Soft Sleeper: Only Available on Some Long-Distance D-Trains
The soft sleeper class is only available on certain routes of D-trains, such as Beijing South Railway Station to Shanghai Railway Station (D313, D321, and D311).
There are four berths (two upper berths and two lower berths) in one compartment with a small table, garbage can, and door. Each berth has a reading lamp.
If you need help, you can press the service button in the compartment. 7. Deluxe Soft Sleeper: Expensive and Less Common
Only a few D-trains have deluxe soft sleepers because the price is almost the same as airplane tickets.
There are only two berths in a compartment, which is equipped with a sofa, private bathroom, wardrobe, and trash can.
It is suitable for couples who don't want to be disturbed and people with high sanitary standards. The price is much higher than normal soft sleepers. Popular bullet train routes with deluxe soft sleepers:
Search online timetables and book your tickets now!
Learn about the train/seat types on normal-speed trains by reading: 4 Normal-Speed Train Types and 5 Seat Classes in China.
How to Choose My Seat/Sleeper? Select your seat/sleeper on China Train Booking
If you book your tickets online with 12306 (China Railway's official website, which is only in Chinese), you can only choose your seat position (sleepers are not available to choose).
How to Buy a China Train Ticket on China Railway's Official Website
However, if you travel with your family and want to book a compartment for all of you, or you just want a lower berth, how can you choose your sleeper positions then?
Our China Train Booking app offers a ticket delivery service to make sure you get the seat/sleeper position you want for free.
Learn more about our delivery service: Delivery Service – an Easier and Faster Way to Get Your Tickets .
We also provide seat selection for free for both self-collection and delivery of tickets. Get a free trial of our China Train Booking app:
Maybe you are also interested in reading: