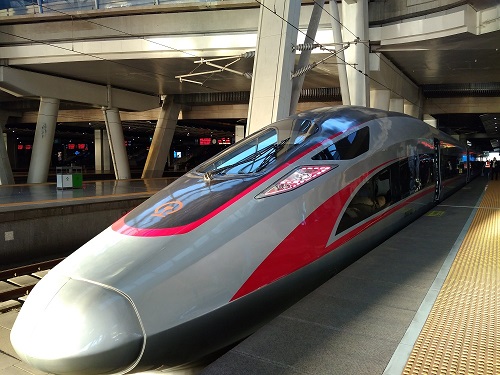 China Bullet Train
China bullet train, sometimes called China high speed train, is one of "China's Four New Inventions". It's well-known in the world for its fastest speed and better comfort.
If you are going to visit China in 2022, this ultimate and latest guide will help you make a plan.
China high-speed trains are classified into three types: G, D, and C trains. In other words, all the train numbers that begin with G/D/C are high-speed trains. China High Speed Train
G train: It is called "gao tie" in Chinese, which means "high-speed rail". It is the fastest train type in China with the best service and facilities.
D train: It is called "dong che" in Chinese, which means "bullet train". It is a little bit slower and cheaper than a G train.
Generally, to most Chinese passengers, G train and D train are physically the same.
C train: This refers to intercity rail. It is the slowest type of high speed train and only runs between two adjacent and important cities, or among urban clusters.
There are 6 different seat classes to choose from on China bullet trains: a business class seat, a superior class seat, a first-class seat, a second-class seat, a private soft sleeper, and a deluxe soft sleeper.
There are six different seat classes to choose from on high-speed trains: a business class seat, a superior class seat, a first-class seat, a second-class seat, a private soft sleeper, and a deluxe soft sleeper.
Business class seat: Generally, this is the best seat class, and passengers are served with free snacks and beverages. The spacious leather seats can recline to a fully horizontal position.
Superior class seat: This seat class is only available on a few high-speed trains. It is similar to a business class seat but its car is right behind the cockpits. Passengers in superior class cars can see the high-speed train drivers at work.
First-class seat: These are more spacious than the ones in second class, with four seats in a row.
Second-class seat: With five seats in a row, they are a little bit more spacious than seats found in economy class on airplanes. Since there are no doors between the cars, the second-class cars are a little noisy.
Private soft sleeper: This is a new sleeper type on D trains. Every berth is like a little compartment with a private reading lamp and a bed curtain.
Deluxe soft sleeper: This comprises four berths in a private compartment with a television, disposable slippers, and 220V sockets.
Superior class seat

Business class seat

First class seat

Second class seat

Personal sleeper
Read this detailed information about Chinese high-speed trains: 3 High Speed Train Types and 6 Seat Types in China.
Find out more information about normal-speed trains: 4 Normal-Speed Train Types and 5 Seat Classes in China.
A common question asked by China Train Booking app users is, "I saw many train stations in one city, so how do I choose the right one?" Beijing South Railway Station
Indeed, there is more than one railway station in most Chinese cities. However, it is not very difficult to decide which station to choose.
First, each city has an oldest station, which is named after the city and followed by "Railway Station", such as Beijing Railway Station.
For those train stations that were built afterwards, they are usually named according to their locations in the city, such as Shanghai South Railway Station and Beijing West Railway Station.
Therefore, you should ideally choose a station that operates trains to your destination as well as being near to your hotel/domicile.
However, when booking train tickets online, the different directions are named with Chinese spellings, such as dong, xi, nan, and bei. Here are the translations to help you understand the meaning when choosing a station.
Dong (东): East
Xi (西): West
Nan (南): South
Bei (北): North
For example, Beijing Xi Railway Station means Beijing West Railway Station and it is in the west of Beijing.
To choose the right station near your hotel, you can search for the distance between stations and hotels on China Train Booking app . 
In China, buying a train ticket has a real-name stipulation. People wait at a station to buy train ticket
Foreigners need their passport numbers and passport names to buy/book tickets in China.
There are 3 common ways of buying Chinese train tickets:
Book on the official website of China Railway: www.12306.cn.
Buy at any railway station or train ticket outlet personally in China.
Book via English service platforms, such as China Train Booking app .
Read more about How to Buy Train Tickets in China
According to China Railway's rules, each child can carry 10 kg baggage and each adult can carry 20 kg baggage. The length, width, and height of each piece of baggage cannot exceed 160 cm respectively.
* Shaft-shaped baggage cannot exceed 200 cm. Wheelchairs are not included in the calculation.
You don't need to calculate strictly whether your baggage is over the weight limit as the station clerks won't actually weigh your baggage if it doesn't look as though it's too big.
See all the guides about train baggage, such as baggage policies, baggage consignment, and the left baggage service, by reading Baggage Rules of China Rail .
The food on high-speed trains is slightly expensive compared with normal-speed trains, but it is tastier and there is more choice. The box meal sold on high-speed train
Box meals: A stewardess will push a dining trolley containing box meals at meal times. They usually cost 50 yuan/box.
Snacks: Between mealtimes, stewardesses push snack trolleys around that contain chips, beverages, and some local Chinese snacks, such as spicy tofu and plums.
Coffee and ice cream: On some high-speed trains, hot coffee and Häagen-Dazs ice cream are sold in trays.
Dining car: There is a dining car on each high-speed train and it is usually numbered as car number 5. You can order Chinese dishes and buy instant noodles, snacks, wine, and other beverages from the bar counter.
If you have a business class seat, you will have some free snacks and beverage. And there is a bar counter selling food and alcohol.
Find out more detailed information about the food and beverages sold on trains: Food and Beverage on China's Trains.
Up to the end of 2019, China high speed rail map has covered over 35,000 km high speed railways and connected more than 80% cities.
Ranked the top 1 in the world today, China is still doing great effort to enlarge the high speed rail network to 38,000 km by 2025.
If you need to see the locations of the train stations before planning your journey, we also provide an online Chinese train station map. You just need to input the station name to see its location and nearby surroundings.
To book train tickets in China, use our handy app - China Train Booking app ( App Store, Google Play, Android APK ) will help you better plan your trip. 
You Might Like