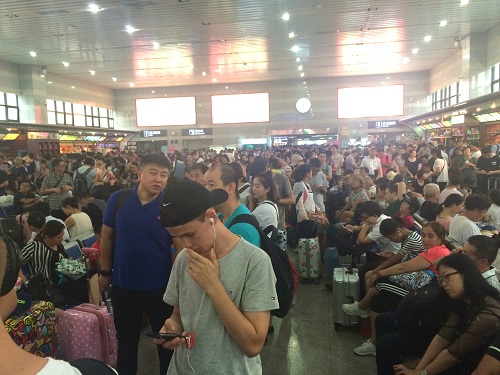 Chinese Spring Festival travel rush, also called Spring Festival transportation peak, can be said to be the largest population migration in the modern society.
In 2018's Spring Festival travel rush, the whole nation's passenger flow volume had reached about 2.97 billion people during the whole holiday.
If you are going to take a train during this period (which we don't recommend unless you have to), then, how to prepare for this trip? Here we have listed 7 tips to help you make your journey easier and more prepared during the travel rush of 2019.
1. The Time of China Spring Festival Travel Rush
Usually, the China Spring Festival travel rush starts from the middle of January and ends in late February.
China Railway estimates that the passenger flow volume will reach 4 billion during the upcoming travel rush.
2. Book Your Tickets As Early As Possible
It's not an exaggeration that the train tickets running during Chinese Spring Festival will be sold out within the first 5 seconds once they are released! So to ensure your trip during Chinese Spring Festival, we highly recommend you book the tickets as soon as the tickets are released.
Generally, Chinese train tickets are released for sale 30 days in advance for online booking, and 28 days in advance for station buying.
To buy your tickets at a railway station before the Spring Festival, please hold your passport and get there on the first date the tickets are released. But please prepare yourself mentally that the station may full of people. (The railway stations are always full of people on the eve of Spring Festival)
To book your tickets online, there is a China Railway's official website named 12306 offering ticket booking system for free (How to Buy a China Train Ticket on China Railway's Official Website?). However, please calculate the accurate release time of your tickets, because the tickets will be sold out within just a few seconds.
Alternatively, to skip waiting the release time in front of your computer, you can also use our China Train Booking app to book advanced tickets before the released date. Our system and train advisers will buy tickets for you as soon as China Rail releases them, no worries and no rushes.
3. Avoid Taking Hard Seat on Normal-Speed Trains Crowed hard seat carriage during the travel rush
Because of the large passenger volume during Chinese Spring Festival, China Railway will release more standing tickets than usual to make sure everyone can return home and gather with their families. Therefore, there more passengers standing on second class carriages on high-speed trains or hard seat carriages on normal-speed trains.
However, it may be wise to avoid taking hard seat if you take a normal-speed train. Because the hard seat carriage can be very crowded, and the passengers from there are not that good mannered.
If you wish a quiet environment, we also recommend you book first/business class seat when taking a high-speed train.
Further reading: 3 High Speed Train Types and 6 Seat Types in China
4 Normal-Speed Train Types and 5 Seat Classes in China
4. Pack Light
During the Spring Festival, many Chinese passengers will carry lots of baggage on train because they prepare some gifts for their families to celebrate the festival. Therefore, the baggage space on trains is stuffed with various things, and you may find there is no room for you to put your baggage if you board the train late. So it's wise to pack light if you don't travel far.
Further reading: Baggage Rules of China Railway. (Passengers with big baggage)
5. Go to the Station Earlier
Generally, it takes about 30 - 60 minutes for passengers to collect tickets and board trains. But during Spring Festival travel rush, it takes twice as long or even triple as long.
You will stand in a long queue waiting for entering the station, collecting tickets, security checks and boarding trains. Even the transportation around the railway station is crowded, you may be stuck in traffic on the way to the station.
So please leave at least 1.5 hours to collect tickets and board trains, you don't want to miss your train right?
Here is the top ten most crowded railway stations in China for your reference:
Get a free trial of China Train Booking app now!
6. Keep An Eye On Your Valuables
Because the stations are always full of people during Spring Festival travel rush, please keep an eye on your valuables when you are in the station or around the station. Here are 4 tips:
Put your wallet in the interlayer of your bag.
If you wear a backpack, it may be wise to back it in front of you when you are near the railway station.
When on trains, if you want to go to the toilet, please carry your wallet and cellphone with you, or ask someone you trust to keep an eye on them for you.
Watch your baggage when the train stops at a station, maybe someone will accidentally take your baggage if it looks similar to his/her baggage.
7. Drink Less Water
Because there are lots of people on trains during the travel rush, so it is hard to wait for an available toilet (there are only two toilets at the joints of two carriages). If you don't want to feel the call of nature badly, it is suggested to drink less water or beverages.
Book train tickets on China Train Booking App and get your ticekts within 3 minutes:
Maybe you are also interested in reading: