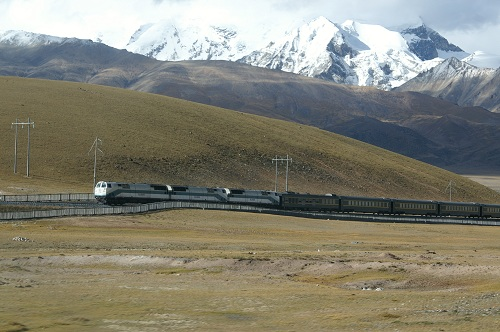 As the most important Chinese passenger transportation, China normal-speed train networks cover almost every corner of the country, and can carry 29.1 billion people during Chinese Spring Festival.
High coverage is the most prominent characteristic of China normal-speed trains. They serve both long- and short-distance trips and there are numerous stops. Travelers can discover every corner of China by trains.
Although high-speed trains have become the first choice in China, normal-speed trains can't be entirely replaced. High-speed trains operate much faster than normal-speed trains, but they are difficult to engineer and unsafe to operate in certain severe terrains. For example, high-speed trains are not available in Lhasa, and there are few high-speed trains in Yunnan. What's more, China is a vast country needing over 7 hours to fly across, and it has so many towns, counties and villages, that it is hard and expensive to network high-speed right across the country.
Generally, China normal-speed trains are classified into Z-trains, T-trains, K-trains and number-only trains with distinctive red, blue and green colors.
Z-Trains–Direct Overnight Express Z-train
Chinese Name: 直达列车 Zhídá Lièchē
Speed: Top speed 160km/h, average speed 120km/h
Degree of Comfort: ★★★★

★
Z-trains, which called Zhida trains in Chinese, are nonstop trains. They usually serve for long distance routes, with only a few stops at populous cities to save time. Z-trains usually depart at night and arrive in the morning. So sleeperberths are the main choice of travelers on Z-trains, but seats are also available.
Compared with other normal-speed trains, Z-trains are renowned for good service and fairly clean environment, with lower prices than high-speed trains. Z-train between mainland and Hong Kong
Z-trains are especially suitable for backpackers, who don't insist on speed but are looking for "on the road" experiences. On Z-trains, you can see different Chinese lifestyles in different areas and experience unique Chinese train culture up close. The best part is, sleeping on the trains overnight saves time as well as hotel budget and by the next morning, a brand new city will be waiting for you to discover it.
To ensure you have a good rest, soft sleeper or other upper classes of tickets are recommended.
T-Trains–Fairly Fast and Cheaper Than Z-Trains
Chinese Name: 特快列车 Tèkuài Lièchē
Speed: Top speed 140km/h, average speed 90~110m/h
Degree of Comfort: ★★★

★★ T-trains run a little slower than Z-trains, with more stops. Generally all major cities can be reached by T-trains. Almost all seat classes are available on T-trains and the basic facilities are similar to Z-trains, but with lower prices. Most T-trains depart during the daytime.
K-Trains---Chinese Old Style Trains
Chinese Name: 快车 Kuàichē
Speed: Top speed 120km/h, average speed 70~90km/h
Comfort of Comfort: ★★★

★★ K-train
K-trains mean fast trains in Chinese, but actually now mean ordinary-speed trains. They have more stops than T-trains and their facilities are inferior to Z-trains and T-trains; only 95% of K-trains are equipped with air conditioning and the air conditioning is not always on during the trips.
The on-train facilities are not new or modern, but better than the number-only trains. Although K-trains are slower and more antiquated than T-trains, their prices are usually a little bit higher than T-trains for they have higher overheads. So, if both T-trains and K-trains are available for your destination, choosing a T-train is recommended.
Number-Only Trains–Cheapest But Slowest
Chinese Name: 普快 Pǔkuài
Speed: Top speed 110km/h, average speed 90-100km/h
Degree of Comfort: ★★

★★★ Number-only train
Number-only trains usually serve small -town routes and the prices are cheapest amongst all kinds of trains. They operate slowly and unsteadily.
You are not recommended to take number -only trains. They are always delayed as they make ways for other trains, and the facilities are old and not very clean. Few trains are equipped with air conditioning and the smell on trains is not that forgiving.
Different Seat Classes on Normal-Speed Trains
There are five seat classes on normal-speed trains; hard seat, soft seat, hard sleeper, soft sleeper, and deluxe soft sleeper. But not all classes are simultaneously available on one train. Different classes are distinguished from different comfort levels, service quality and facilities; hard seats are the cheapest and soft deluxe sleepers are the most expensive. Hard Seats
Since high-speed trains are popular in China, hard seats on normal-speed trains are no longer a popular choice among Chinese citizens. Some people, however, don't have much budget or want to go to some relatively unknown small towns, and they still need to take normal-speed trains and this kind of seat type.
You are not recommended to take hard-seat, especially not during China's Spring Festival travel rush.
Smoking is not prohibited and it is very noise on hard seat carriages, because some people like playing cards and speaking loudly. The sanitary conditions are not very good; some people may drop litter and even spit on the train. Standing-ticket passengers are also assigned to hard seat carriages, and they usually stand in the aisle, so it could be very crowded.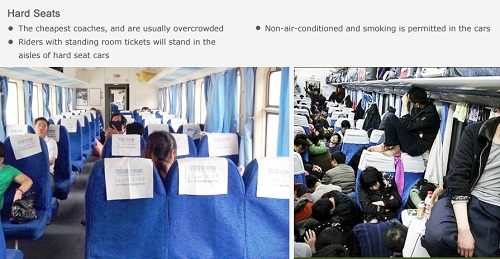 There are usually four or five seats in a row, but on some old trains, there are more than five seats in a row.
Please note that, if hard-seat tickets are sold out, China Rail will automatically issue you with standing tickets.
Use China Train Booking App ( IOS, GooglePlay, Android APK ) and we will prevent such troubles for you and ensure you have a smooth trip.
Soft Seats Soft Seats are much better than hard seats but are only available on certain trains. The backs of the seats are slightly oblique, seats are more spacious than hard seat and there are 4 seats in a row. Soft seat carriages are cleaner than hard seat carriages, and smoking is not allowed in soft seat carriages but can be allowed between two carriages.
Hard Sleepers Hard sleeper is the cheapest sleeper class. Passenger types are varied and sanitary conditions are not as good as on soft sleeper.
Each compartment has six berths and each side is divided into upper berth, middle berth and lower berth. The berths are fairly narrow and small; the entire space is a little cramped.
Sockets are only available in the public aisle and there are only three sockets per carriage,so bringing a portable charger is recommended for long trips.There is no door so the compartments are totally open. Smoking is only allowed between two carriages. Since the compartments are open design, however, the cigarette often carries into the compartments.
The advantages of taking a hard sleeper that are you can easily make friends easily in this open environment, and you can easily observe different types of Chinese passengers.
The deficiencies of taking a hard sleeper are its noises because of the open environment, especially the screaming of babies or snoring of adults, and it is difficult to climb to the upper berth The berths are also quite narrow for turning over. People who are tall and strong or people with limited physical mobility are not recommended to choose hard sleeper berths.
Soft Sleepers The soft sleeper is also a high-class sleeper type. Prices are much lower than soft deluxe sleepers and compared with deluxe soft sleepers, soft sleeper tickets are easier to buy.
Soft sleeper carriages aren't equipped with private toilets inside the compartments. There are four berths and one door per compartment. The berths are wider and more comfortable than hard sleepers, and there are both western toilets and Chinese-style toilets between two carriages.
The passengers are mainly rich undergraduates or better-off tourists, so getting along with them is not difficult or awkward.
Deluxe Soft Sleepers Deluxe soft sleepers are the top-level sleepers, only available in a few trains. The price is the highest and the integrated environment is the best. Each compartment has a door to ensure personal privacy and to offer a quiet environment.
There are only two berths per compartment, equipped with sofa, TV, 220V socket, table and wardrobe. The floor is carpeted and the compartments are clean and spacious. Best of all, each compartment has a private western toilet, and some toilets even have shower cubicles.
In the public aisle, folding stools are set near windows; passengers can sit down and enjoy scenery along the way.
If you like peace and quiet and have enough money, the deluxe soft sleeper is your best option.
China Train Ticket Prices
Guangzhou–Shanghai: Ticket Prices on Trains K528 vs T170 vs Z100
| | | | |
| --- | --- | --- | --- |
| | K528 | T170 | Z100 |
| Hard Seat | ¥201.0 | ¥189.5 | ¥206 |
| Soft Seat | \ | \ | \ |
| Hard Sleeper | ¥343.0 | ¥322.5 | ¥353.0 |
| Soft Sleeper | ¥628.0 | ¥560.5 | \ |
| Deluxe Sleeper | \ | \ | \ |
Beijing–Lhasa: Tickets Prices on Train Z21
| | |
| --- | --- |
| Hard Seat | ¥360.0 |
| Soft Seat | - |
| Hard Sleeper | ¥720.0 |
| Soft Sleeper | ¥1144.0 |
| Deluxe Sleeper | - |
Kunming to Lijiang: Ticket Prices on K-Train
| | |
| --- | --- |
| Hard Seat | ¥89.0 |
| Soft Seat | - |
| Hard Sleeper | ¥141.5.0 |
| Soft Sleeper | ¥217.0 |
| Deluxe Sleeper | - |
5 Special Reasons to Choose Normal-Speed Trains Rather Than High-Speed Trains
More Comfortable for Long Trips
Most high-speed trains only have seats, no berths. If you are going to take trains overnight or for at least 7 hours, lying on the sleeper berth is much better than sitting for so many hours.
Overnight Trains Can Save Your Lodging Expenses
Soft sleepers and deluxe soft sleepers are just like Youth Hostels. Taking an overnight train not only gets you to your destination, but also saves a day's lodging expense.
Make Friends with Chinese People
If you want a Chinese friend, taking a normal-speed train is a good policy. Sharing a same compartment or carriage together on a long trip can help you get to know each other, and you may even exchange cell phone numbers!
Understand Chinese Culture and Customs Better
You can quickly observe and understand a place's culture and customs on trains, no matter which country you are in. Seeing different kinds of people on the train is interesting and helps you understand the country more.
Discover Deepest China
Only normal-speed trains can go to some unknown but beautiful towns and counties. So, make your travel plans and choose the right train now!
How to Book Normal Speed Train Tickets in China? China Train Booking is an App designed for foreigners who are unable to read and use Chinese but want to book trains online, and the train information is from China Rail. English, French, Spanish, German, Italian, Japanese and Russian interfaces are provided. All you need to do is pay for a train and wait for our email with a pick-up number. Payments can be made by credit cards, PayPal, WeChat Pay or Alipay. Individual privacy is well protected, for the system won't record any customer's personal payment. China Train Booking also offers personal service from 6 a.m. to 11 p.m. every day, so don't worry if you meet with any difficulties.