If you are going to have a train journey in China, you will have the opportunity to enjoy a meal on the train. If you take a Long-distance train, or will pass the time of breakfast, lunch and dinner, you can consider eating on the train.
So what can you eat on a China's train?
In this article, we have provided details of several ways you can buy food on the trains: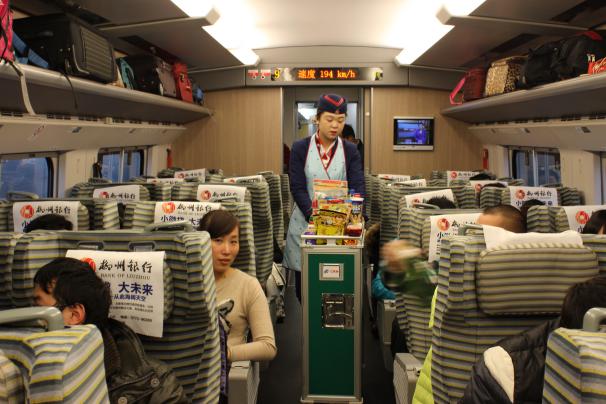 Box meal on China's high-speed train
China Train food on Dining cars
Train Food trolleys
Trays
Platform carts
Take out service
Halal food
China Train food on Dining Cars
Available food on dinning cars:
Fried dishes
Instant noodles
Bottled beverages and local beers
Generally, a dining car is located in the middle of a train. You can ask the train attendants where it is located.
Here is a translation might help you find the dinning car:
你好,请问餐车在哪个车厢?
("Excuse me, could you tell me where the dining car is located?") Bar counter on a high-speed train
Only Chinese food is available in the dining cars, such as noodles, fried dishes, and soup. There are many local dishes available , the food on the train provides different food according to different provinces. For example, if your train is operating in Sichuan Province, some Sichuan cuisine will be available.
For breakfast, dining cars mainly offer Chinese rice cereal, boiled eggs, and steamed stuffed buns.
For lunch and supper, dining cars mainly offer various fried dishes and noodles. Meat dishes are usually pork, beef, or fish while vegetables tend to be lettuce, cabbage, and some local Chinese vegetables.
You can also buy some snacks and beverages in the dining cars, such as peanuts, potato chips, coffee, and carbonated drinks.
However, in China, there are some small differences between the dining cars on high-speed trains and those on normal-speed trains. Here we have provided some the general information about each of them for you.
Under normal circumstances, if there is no fast food sold, the flight attendants will eat it, so that no food will be wasted.
Dining Cars on High-Speed Trains Dinning car on a normal-speed train
On a high-speed train, a dining car is like a small bar. It is usually numbered as car 5.
There is a bar counter selling instant noodles, snacks, wine, and other beverages. Passengers can also order dishes at the counter.
Generally, the dishes are ready-made because there is no kitchen on a high-speed train.
Read 3 High Speed Train Types and 6 Seat Types in China.
Dining Cars on Normal-Speed Trains, China Sleeper Train Food Food in the dining car
On normal-speed trains, the dining car is like a small restaurant. It is usually numbered as car 9.
There is a kitchen in the dining car, so passengers can eat tasty fresh meals on normal-speed trains.
Read 4 Normal-Speed Train Types and 5 Seat Classes in China .
Train Food Trolleys
Available food on food trolleys:
Box meals
Snacks
Cut-up fruit
Bottled beverages The trolley on China' train
There are two kinds of food trolleys on China's trains: box meal trolleys and snack trolleys. Train attendants always push the trolleys back and forth on the trains.
The food and snacks served from trolleys on high-speed trains are usually better and more expensive than those served on normal-speed trains.
On high-speed trains, the box meals from food trolleys contain five dishes with rice (two meat dishes and three vegetable dishes), and they cost from 35 yuan to 120 yuan per meal. The dishes are usually beef, shrimp, pork, chicken, tofu, celery, carrot and lettuce. The box meals on high-speed trains are fairly delicious, if you are used to eating Chinese food.
On normal-speed trains, the box meals from food trolleys are not very tasty. One box meal usually contains three dishes with rice, and it costs from 15 yuan to 30 yuan.
Snack trolleys sell bottled beverages and snacks, such as potato chips, spicy tofu, chicken wings, instant noodles and peanuts.
Trays Tray service
If you need to catch your train early, you definitely need a cup of coffee.
On high-speed trains, the attendants sometimes bring tray a to you with coffee, Häagen-Dazs ,or milk tea. The coffee is freshly ground and the milk tea is usually made with instant powders, but it still tastes good.
A cup of coffee usually costs about 20–30 yuan.
Platform Carts
At some station stops, there are carts selling meals, snacks, and instant noodles on the platforms.
You can get off the train and buy some food from them, but please keep an eye on your train to make sure you can get back on it before it departs.
It's worth mentioning that, some carts sell local gourmet foods.
Even if you are not staying in that particular city, you can still enjoy its local food from these platform carts, and the dishes are more delicious than the food sold on the trains.
Don't you think it is fun to be able to try out the local food without leaving the train station?
Here are some recommended cart foods from different stations: Marinated meat in a baked bun
Guilin: rice noodles (桂林米粉)
Changsha: stinky tofu (臭豆腐)
Xi'an: marinated meat in a baked bun (肉夹馍)
Wuhan: hot noodles with sesame paste (热干面)
Lanzhou: Lanzhou hand-pulled noodles with beef (兰州拉面)
Tianjin: steamed stuffed buns (狗不理包子)
Take out Service for High-Speed Trains
Since 2017, China Railway has offered a new service to passengers to order take outs and get them delivered on the train.
The food is basically from the restaurants located in the railway stations, such as McDonald's, KFC, and some Chinese restaurant chains.
Passengers need to have a 12306 account and book the take out via its website or app. They need to input their train information, choose a delivery station, choose their food and make the payment. The take-out guy will bring the food to your seat when your train stops at the station you chose in your order.
Halal Meals — Food for Muslims
Most of the trains don't provide specialized halal meals for Muslims.
However, some specific routes such as trains to Xinjiang, Qinghai, and Inner Mongolia, do offer halal meals for Muslim passengers.
On other trains, although no specialized Muslim food is available, Muslim passengers can buy the meals with beef, shrimp and vegetables.
China has 55 minorities and many of the minorities believe in Islam, so please don't worry about religious respect issues. A bar counter
The cost of eating on chian train - Food prices
The price is about 35–120 yuan per dish and 10 yuan per bottle of beer, Generally USD $6-20 per person.
Lunch boxes on the train are cheaper than ordering meals
Tips for Eating on China Trains
Please take enough cash with you to buy food on the trains.
Most Chinese people don't like buying food on trains because they think it is expensive and not very tasty.
They like buying instant noodles and sausages in advance, or buying hot meals at the railway stations and then taking them on the trains.
Food at the railway stations: There are many restaurant chains inside or near the railway stations.
Just like airports, these restaurants are well-known and their prices are a little bit higher than those located outside the stations.
If you want to eat several dishes at a low price, buying a box meal is more cost-effective than ordering food in a dining cars.
There are three to five dishes in one box, and you only need to pay for one meal.

If you need to order a meal, you can contact us when placing an order in our app.
Free boiled water is available on all of China's trains. So you can bring an empty bottle on train and make yourself some instant drinks, such as coffee.
Sometimes, the dining cars are not a good place to sit and eat because some passengers who have been issued with standing tickets like to take a rest there.
If you arrive at the train station in advance, you can also eat while waiting for the train. Large train stations have restaurants.
You Might Like