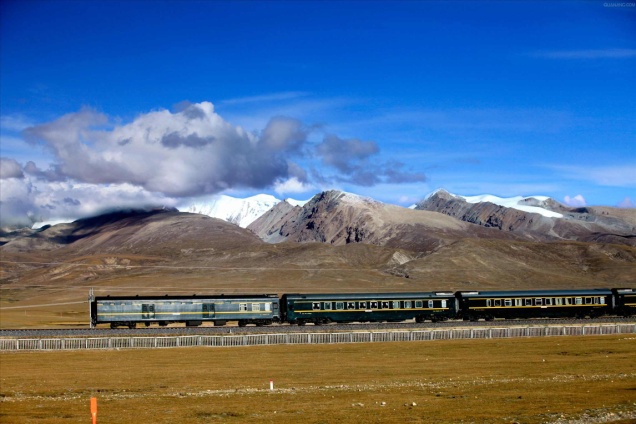 A train operating in Tibet
Having a high-coverage and mature rail system is one of the symbols of China. However, in this vast country with its various and complex landforms, it is never an easy thing to build a perfect rail system. Therefore, there are still many routes that don't have direct trains (especially when going to a
complex geomorphic
or
less developed
 area).
This means you might need to transfer to another train when you want to visit some remote but beautiful attractions during your China trip, and this article will give you somepractical tips to make your transfer quickly and easily.
What Should I Prepare for Transferring to Another Train?
◆ Tickets
You need at least two tickets to finish the whole journey if you can't go to your destination directly, and it is recommended that you collect your tickets all at once at your departure station to save time.
◆ Passport
You are required to show your passport when entering into a Chinese railway station, and you might also need to show it during the transfer.
How to Transfer to Another Train in China?
Transfer at the Same Railway Station
◆ 2 Steps and 30-60 Minutes, Two Kinds of Situations
In most big cities in China, there is always a transfer passage for passengers to go directly to the waiting hall after getting off their trains (just like an airport's design). However, some small and old railway stations don't have transfer passages, which means passengers, need to leave the transfer station and then reenter it. So let's learn how to deal with these two situations when transferring at the same railway station in China.
Step 1- Get Off the Train and Find a Way to Reach the Station Hall
After you arrive at the transfer station, you will know whether this station has a transfer passage. If it shows a "Transfer" ("便捷换乘"in Chinese) indicator, you can simply follow the sign and it will lead you directly to the waiting hall.
If you can't find a "Transfer" indicator, it means that this station possibly doesn't have a transfer passage. In this case, you need to follow the "Exit" sign to leave the station, reenter the main hall, and find the right waiting area. Transfer indicator on the ground and on the wall
Step 2- Have Your Ticket Checked and Board the Train
After you find the right waiting area, you can simply have your ticket checked and board the train.
See How Board Trains in China
Transfer to Another Railway Station in the Same City
In China, there is more than one railway station in one city, and they are always distinguished by their directions. For example, Beijing has four main railway stations and they are called Beijing Railway Station (the oldest one), Beijing North Railway Station, Beijing West Railway Station, and Beijing South Railway Station. Therefore, sometimes travelers may need to transfer to another railway station to connect their routes.
It is recommended to take a taxi to another station as it saves time and you won't go to the wrong way by mistake. There are taxi stands outside each railway station; you need to line up to take one. You can show your train ticket to the taxi driver, as the station name is printed on it.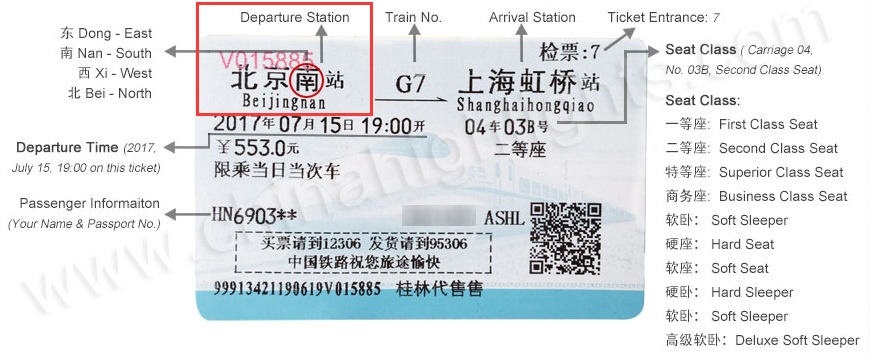 Taxis waiting in queue
At some new railway stations, subway stations are built inside them. So it is also very convenient to take the subway to another station. But before you get on the subway, we recommend you to first check with the staff that you have chosen the right line.
We don't recommend you take a bus, as you could get stuck in a traffic jam on the road, or you may go in the opposite direction.
How to Transfer to Another Train in China?
Although trains are fairly reliable compared with airplanes, they may also be delayed sometimes, especially normal-speed trains. So here are three advices:
For high-speed trains, leave at least 1 hour to transfer at the same railway station.
For normal-speed trains, leave at least 2 hours to transfer at the same railway station.
It may be wise to pay attention to the weather report to avoid traveling in bad weather. Sometimes, travelers may be stuck on trains if the weather is too bad for them to run (such as heavy snow or a typhoon).
Tips of Transferring to another Train in China
Some platforms have barrier-free elevators; passengers can take the lifts to go to the waiting hall directly after they get off the trains.
If you can't find a direct route to your destination, it is common to search the capital of the province as a transferring city. For example, if you want to go to Zhangjiajie, Hunan, you can transfer in Hunan's capital, Changsha. And then, take a train from Changsha to Zhangjiajie.
Learn more Chinese traveling tips for free by sending us a FAQ on China Train Booking App: