China has a well-connected railway system. However, sometimes there might be no direct train running to some beautiful but remote counties/attractions. We provide three solutions for you to solve this kind of problem.
Solution 1. Transfer at the Provincial Capital
If there are no direct trains from your departure station to your destination, we recommend you use the provincial capital city for a transfer.
Usually, there are most trains available from provincial capital cities to smaller stations in the province.
For example, Changsha, capital of Hunan Province, is a good transfer city for Zhangjiajie, a smaller city in Hunan.
Solution 2. Take a Coach to Your Destination
In China, a large proportion of natural attractions don't have a railway station. However, you can often get quite close by taking a train to a nearby county town or city and then taking a coach the rest of the way.
Buses and local transport are usually provided from train stations to tourist destinations. In a coach the air may be a little stuffy, so you may prefer a local taxi or to arrange private transport.
Solution 3. Use Our Online Booking Service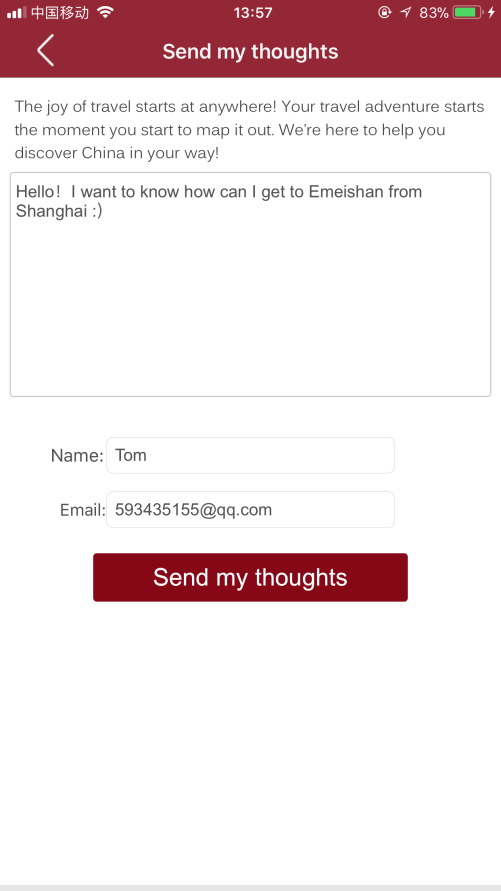 The FAQ page on our App
We help over 20,000 foreign travelers make their bookings online each year. We are confident that we can not only book direct tickets, but also help you travel to less-easy-to-reach destinations.
The data displayed on our China Train Booking App is in sync with the official website of China Rail Corporation, which means all the train tickets sold by China Rail are shown on our website.
There is also a "FAQ" section in our app and you can get free travel tips when you use our China Train Booking App.
When you cannot find a direct train to your destination, you can ask us any question and we'll help you to figure out a solution, finding the most convenient and time-saving route for you. We will reply to your message both on the app and by email.
How to Run:
Open the app → Click the "Account" button → Send your questions and suggestions to us
5 Popular Areas and Train Transfer Routes
Detailed train timetables and routes can be searched for in our app, such as the ones listed below.
Want to search for these routes right away? Open our app now in IOS or Android.
1.Trains to Zhangjiajie (张家界): The view of Zhangjiajie
Zhangjiajie is a popular tourist destination in Hunan Province (湖南省), known for being an inspiration for the movie Avatar.
You can see Avatar Hallelujah Mountain and discover an earthly world version of Pandora in this beautiful scenic spot.
However, only a few cities have direct trains there. The most convenient way is to go to Changsha Railway Station (长沙站) first by bullet train, and then transfer to a normal train.
There are seven trains to Zhangjiajie from Changsha Railway Station, running from 4:26am to 10:14pm. A journey takes about 5 hours and costs about 83.5 yuan.
2.Train + Bus to Fenghuang (凤凰) Fenghuang Ancient Town
Fenghuang has a wonderful natural landscape and special wooden ancient buildings. It has retained its original style, presenting you with the simple and primitive atmosphere you would expect to experience in this ancient town.
It is praised as one of "the most beautiful towns in China".
Follow these steps to get there:
If there is no direct train to Fenghuang from your departure city, you can take a train to Changsha first and then a connecting bus to Fenghuang.
After arriving at Changsha Railway Station, take a coach to Fenghuang from Changsha West Coach Station, costing about 145 yuan, and taking about 6 hour.
* Reach the coach station by taxi: It takes 35 yuan and costs half an hour to get to Changsha West Coach Station from Changsha Railway Station.
您好, 我要去长沙客运西站。
Hello, I'd like to go to Changsha West Coach Station.
您好,我要买一张去凤凰的汽车票。
Hello, I'd like to buy a bus ticket to Fenghuang.
3. Trains to Mount Hua (华山) Mount Hua is near Xi'an in Shaanxi Province (陕西省). It is one of the Five Great Mountains in China.
You can enjoy the gorgeous sunrise, sea of clouds, and Buddhist worship sites there.
Only a few cities have direct trains to Mount Hua, so transferring via Xi'an (西安) is recommended.
Xi'an North (西安北火车站) – Huashan North (华山北火车站): It takes about 40 minutes on a high-speed train and costs 54.5 yuan for a second class seat.
4. Trains to Lijiang (丽江), and buses to Shangri-La (香格里拉) and Lugu Lake (泸沽湖) Shangrila
These charming places are in the west of Yunnan Province (云南省).
In the Tibetan language, Shangri-La means "the sun and moon in the heart". It has international fame for its amazing views and mysteries relating to Buddhism.
Lugu Lake is a scenic area without a railway station. If you want go there, the only way is to take a coach. There are many coaches to Lugu Lake from Lijiang Coach Station.
Compared with other big cities in China, the railway service is not very well-developed. If you want to go these places, transferring via Kunming is the top choice. Lugu Lake
Follow these steps to get there:
Take a normal train from Kunming to Lijiang. It takes about 9 hours and costs 141.5 yuan for a hard sleeper.
Transfer to Lijiang Coach Station from Lijiang Railway Station (6 km or 4 mi). It takes about 15 minutes to get there by taxi and costs about 15 yuan. You can also take bus 18 to Lijiang Coach Station from the bus stop located in front of Lijiang Railway Station.
Take a coach to Shangri-La (about 4 hours) or Lugu Lake from Lijiang Coach Station.
To a passerby:
- 您好,请问怎样去丽江汽车站?
(Hello, could you please tell me how to get to Lijiang Coach Station?)
To the ticketing assistant:
- 您好, 我想买一张去香格里拉的车票。
(Hello, I want to purchase a ticket to Shangri-La.)
- 您好, 我想买一张去泸沽湖的车票。
(Hello, I want to purchase a ticket to Lugu Lake.)
5. Trains to Leshan (乐山) and Mount Emei (峨眉山) Leshan Giant Buddha (乐山大佛) and Mount Emei are two famous tourist attractions in Sichuan Province (四川省).
Leshan Giant Buddha is the world's largest stone Buddha and it integrates the beauty of a natural heritage and the Buddhist culture.
The most interesting things to see on Mount Emei are the wild monkeys that live there and you can also enjoy its unique snowcapped peaks, underground caves, streams, waterfalls, and forests.
Transferring in Chengdu (成都) will make your journey quite easy.
Recommended trains to Leshan:
Chengdu East (成都东) – Leshan: C6263 (09:05–10:20) — 51 yuan for a second class seat, 61 yuan for a first class seat
Chengdu East (成都东) – Leshan: C6273 (16:14–17:20) — 54 yuan for a second class seat, 65 yuan for a first class seat
Recommended trains to Mount Emei:
Chengdu East (成都东) – Emeishan: C6301 (09:35–10:59) — 65 yuan for a second class seat, 78 yuan for a first class seat
Chengdu East (成都东) – Emeishan: C6309 (17:10–18:47) — 65 yuan for a second class seat, 78 yuan for a first class seat
Information about Normal-Speed Trains
Since most of these places are quite remote and not very developed, you'll probably take normal-speed trains quite frequently. Therefore, we think you'll be interested in these two articles: