It seems difficult for international travelers to buy train tickets in an unknown country. Especially when language becomes a huge barrier. In this article, we'll tell you how to book train tickets in China like a local.
Except the four ways, you will also learn 3 booking policies that should be known before making a reservation. The policies are regarding to how far in advance should you buy tickets? What documents are needed? How much does a child's ticket cost? Find the answers below.
Book via App, Website, Station / Outlet, Call
There are four ways to book China train tickets. Each way has its advantages and disadvantages.
1. Via an English service platform: with reasonable service fee but no language barrier.
2. Through China Rail official website: www.12306.cn: no service fee but time-limited.
3. Buy directly at a train station / ticket outlet: with extra fee of CNY 5 per ticket and no English service.
4. Call official hotline to book: +86 010 95105105: add both country code and city code when dialing.
1. Book Tickets via China Train Booking App - Fast & Reliable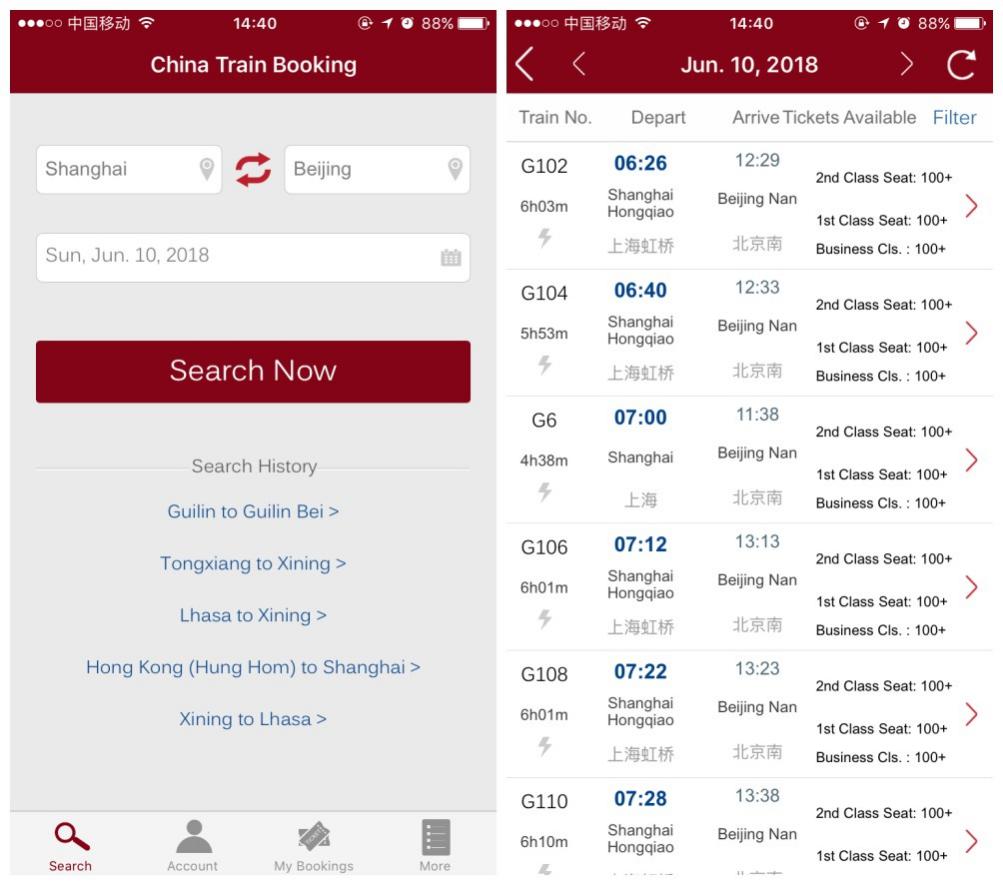 While travelling abroad, especially in a non-English speaking country, downloading an English service app is really necessary. China Train Booking app was launched in 2015, and now it owns more than 100 thousand of active users on the App Store and Google Play, and received over 90% positive reviews. China Train Booking offers:
Search & book anytime: No matter when and where you are located, in a metro or a restaurant, you can plan your train travel by just a couple of tabs on your phone.
Get instant notifications of your tickets : China Train Booking app informs you everything about your bookings on the phone, including the suspending of your train, departure notification, and other emergenciy info released by China Railway.
Multiple payments accepted: The official ticketing website www.12306.cn only accepts payment from a Chinese bank card. China Train Booking supports payment paying through international credit card / PayPal / Alipay / WeChat Payment.
Easily collect your ticket by showing an E-voucher: Using an E-voucher on the app is much easier than printing a document from a web to collect ticket .
Better after-sale service: No need to visit a website again and again to check your booking status or contact customer service. China Train Booking app helps you track your booking status and cancel your booking instantly.On your booking page, you can find our customer service hotline available 24/7, and we are also reachable through e-mail, WeChat and WhatsApp from 6:00 to 23:00.
Only Three steps to get your China train tickets by using our app:
Search your train route and choose a right train.
Input the passenger's name and passport number.
Pay to get your E-ticket number
Get the free trial now:
2. Book on the Official Website of China Railway - Cheap but Time-Limited
China Railway only has one official website for booking tickets online: www.12306.cn. And there is no extra service fee if you book from there.. But only available to place orders during 23:30 - 05:00(the following day) . You can only place orders at the release date, which is 15 days before departure.
Its home page looks like this: Here are the brief steps you need to follow to buy a ticket via 12306.cn:
Register a 12306 account with a valid Chinese phone number.
Log in to your new account.
Choose a train and a seat class and pay in CNY.
Get your collection number online, which you can use to collect the paper ticket at the station.
Learn the step-by-step guide of how to use 12306 by reading How to Buy a China Train Ticket on China Railway's Official Website
Disadvantages:
No English version on the official website.
Only a Chinese cellphone number can be used to register.
Only available to place orders during 6:00 - 23:00, UTC +8.
Only WeChat, Alipay, and some specific Chinese bank cards can be used to make the payments.
The website always has a tendency to crash and have bugs
Advantage: There is no service fee. If you live in China and can read Chinese, it is recommended to use this website to book your train tickets.
3. Buy at a Railway Station/Ticket Outlet - Cheap But The Tickets May be Sold Out Fast When you decide to go to the railway station to buy tickets by yourself, please make sure you have your passport and enough cash or a Chinese bank card in hand.
Find a ticket window at the train station/ticket outlet:


In most stations, ticket windows are located on the first floor of the main station hall. However, some stations' ticket windows are located in an independent ticket building. The ticket window in Chinese is "购票窗口".

Generally, there is no service fee if you buy your ticket(s) at a railway station. However, if the train you booked doesn't depart from the city you are in, the railway station will charge you 5 yuan for each ticket.

If train station is too far from where you locate, there are many ticket outlets distributed throughout a city, especially in some main districts. A charge of 5 yuan is payable for each ticket as a service fee if you buy your tickets from them.

Tell the rail staff where you want to depart and arrive:


The station staff will show you the train timetable and tickets availability on a computer. Just tell him/her which train and what seat class you would like to book.

Then pay in cash, WeChat Pay, Alipay, POS machines that accept bank cards from designated banks, or various bank cards with UnionPay logos The rail staff will print your ticket immediately.
Disadvantages:
It is troublesome to go to a station/outlet to buy your ticket(s).

Buying tickets directly from train stations or outlets is out of fashion. Nowadays, Chinese people are used to dealing with everything from their smartphones, so the number of ticket outlets has declined sharply in recent years.

Most of the clerks don't speak English and their attitude is not very good
Railway stations are always crowded
Tickets may be sold out while you are going to the station

It is not an exaggeration to state that some popular tickets are released by China Rail, they can be sold out within 1 minute! Occasions like this would mean traveling to the station in vain.
4. Call Hotline 95105105 - Language Barrier
China Rail has a hotline for passengers to book train tickets by telephone. This is not a mainstream way of booking train tickets in China,but if you want to skip the procedures of registering the account online, it is also an alternative choice.
Here are the tips of booking tickets by telephone:
Telephone number: area code + 95105105 (e.g. Beijing departure: 010-95105105, Shanghai departure: 021-95105105)
Working hours: 05:00 — 23:00
Language: Chinese (but you can also try to communicate in English, some clerks can speak a little English)
Book limitation: 4 to 15 days before departure
After you successfully book, please go to the station to pay the money and get you ticket(s) within 24 hours, or your ticket(s) will be cancelled.To complete the payment process, please bring the order number provided by the phone booking system and the original valid identification documents of the passengers to any railway station ticket window or railway ticket outlet.
China Train Tickets Are Released 15 Days before Departure
Online pre-sale: 15 days before departure. E.g. ticket for Nov.30 will be released online after Nov.15.
Station/outlet pre-sale: 15 days before departure. E.g. ticket for Nov.30 will be released offline after Nov.15.
* If you book on www.12306.cn, you are not allowed to place orders before release date. If you use China Tain Booking App, you are able to reserve your seat anytime, even earlier than a year.
* For trains running during Chinese national holidays, we highly recommend you to book them before the first pre-sale day.
Chinese national holidays are always peaks of train travel. Train tickets will be sold out in minutes right after they are released. Placing your orders as early as possible on China Train Booking App is highly recommended.
To find out all the essential things about traveling by trains in China, please read China High-Speed Train/Rail Guide.
Only Passport / Mainland Travel Permit / Chinese ID Card Is Needed to Book a China Train Ticket
If you have successfully applied for China VISA, your passport can be used to book a China train ticket. The name and the passport number you input to book train tickets must be exactly the same as on your passport.
If you are a resident from Hong Kong, Macau, or Taiwan, only mainland travel permit can be used to buy and collect ticket.
If you have Chinese ID card, use your Chinese ID numbers to make reservations.
Child under 14-year-old cm Enjoys 25% - 50% Discount * Child is not able to book China train ticket alone online. Children under the age of 14 should travel with adult passengers, except for students who need to commute to school by train and children who railway transport companies agree to supervise during the journey.
Child's under 14-year-old: :Booking a ticket of 2nd class seat / 1st class seat / business class seat / hard seat / soft seat can enjoy 50% discount. Booking a ticket of hard sleeper / soft sleeper / personal soft sleeper / superior soft sleeper gets 25% off.
Child's height under 6-year-old:: Free. Free. But he / she will share one seat / sleeper with an adult. When passengers carry children who can travel for free, they should declare in advance to the railway transportation company when purchasing tickets. The valid identification document used during the ticket purchase declaration will serve as the child's travel voucher.
You might be also interested in reading: