To most travelers, collecting train tickets after booking online in a foreign country can be difficult and tricky, especially when you have many train trips.
However, if you book Chinese train tickets on ourChina Train Booking app, you can choose to have your ticket(s) delivered to your hotel or domicile.
Our delivery service aims to give you a smoother and more efficient train journey experience with little extra expense, so read on to learn under what circumstances you are recommended to use this service, how to order this service and how we deal with the delivery.
If you prefer to collect the tickets by yourself, please read How to Collect Tickets in China.
What Makes Our Delivery Service Better Than Collecting the Tickets Yourself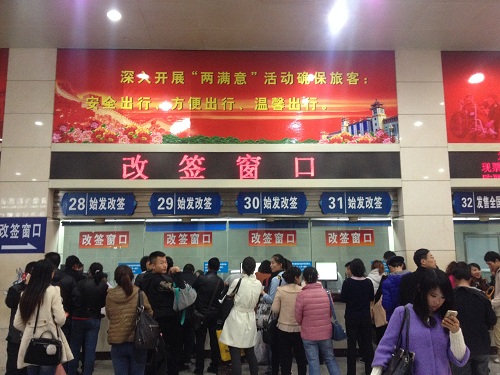 Railway stations are always full of people
1. Save the Endless Queuing Time
Generally, passengers need to arrive at the station 1–2 hours earlier than the departure time to line up and collect their tickets. However, if you choose the delivery service, we will collect the ticket(s) for you in advance and send it/them to you before you depart. Therefore, you can save the collection time as well as avoiding the long queues in front of the ticket windows, and you only need to be at the station 30–40 minutes earlier.
2. Get Adjacent Seats
Only our delivery service can ensure you get adjacent seats. If you book online and collect the ticket(s) yourself, China Rail will randomly assign the seat number(s).
3. Prevent Issues That Don't Allow You to Get Your Ticket(s)
Sometimes, collecting foreigners' tickets at the train station can be very tricky. Passport information, passport expiration dates and other issues might result in you being unable to collect your paper tickets and, therefore, affecting your train journey. However, if you choose our delivery service, we will deal with all of these barriers for you at the train station in advance — all you need to do is wait and sign for our ticket express delivery!
4. Get All of Your all your Itinerary's Tickets at Once
If you want to travel to multiple cities, why line up (many times) to collect tickets from each of the stations? If you choose to collect them all at one station, you must wait while all booking numbers are processed, and you will be charged 5 yuan per ticket for all journeys not departing that station. So why don't you save your time and money as you enjoy our delivery service?
Under What Circumstances Do I Need the Ticket Delivery Service
When You Need Tickets Between Mainland China and Hong Kong

China Rail doesn't sell tickets between mainland China and Hong Kong online. Therefore, if you want to book train tickets between mainland China and Hong Kong, you can only buy them at the stations and the tickets could be sold out within minutes. So we highly recommend you to use our delivery service to get your tickets for Hong Kong.

When You Don't Have Much Experience with Trains in China

If it is your first time taking a Chinese train, we recommend you use our delivery service to avoid being unsure about where to start.

When There Are Many Passengers in Your Group

It is troublesome to hold many passports when collecting tickets at the ticket windows, and it is easy to lose items during the confusing circumstances.

When You Have Booked Many Train Trips In Your Itinerary With Us

Rather than collecting all of your tickets at different stations and being charged the cross-city collection fees, it may be smart to use our delivery service to save you some time and money.
How to Order Our Ticket Delivery Service
Please tap the "Ticket Collection" button to choose to have your tickets delivered to your hotel or domicile.
Please input the correct and detailed delivery information according to the table.
Input the seat request at "Choose Your Seat", such as "window seat" or "lower berth".
(Only our delivery service lets you choose where to sit, so enjoy this special treatment!)
Click "Done" in the top right-hand corner and you will see all the charging details at the bottom of the screen. How We Deal with the Delivery Service We process your booking online We queue up collect your ticket(s)
1.Our experienced train advisers receive your delivery booking online.
2.We process your ticket(s) online. (If your ticket(s) have not been released yet, we will wait and process it/them at the point of release)
3.Our train advisers go to the station, line up at the ticket windows, tell the station staff about your seat request(s), and buy your paper ticket(s). Tickets will be carefully enclosed SF Express deliver your tickets by air
4.If you choose to have your ticket(s) delivered to a hotel, we will confirm your check-in information with the hotel, and require them to sign and keep the package for you.
5.Your ticket(s) will be put into our tailor-made envelope and delivered by SF Express(the best and fastest logistics company in China) by air.
6.The courier takes your package to your address and calls you/the hotel staff to sign for its receipt.
Things to Notice
Usually, your packages will be kept at the hotel reception or concierge, so you can simply get it after you have checked in.
To ensure you get your tickets in time, please make the booking as early as possible.
Please double-check your check-in name when inputting the hotel's address. If possible, it is helpful to give us your check-in reference.
Please check your travel schedule before placing a booking for delivery, because if the tickets have been sent out, you need to cancel the tickets yourself at the station.
Limitations for booking the ticket delivery service:
Normal booking limitation: book at least 8 days before departure
Guangzhou – Hong Kong: book at least 3 days before departure