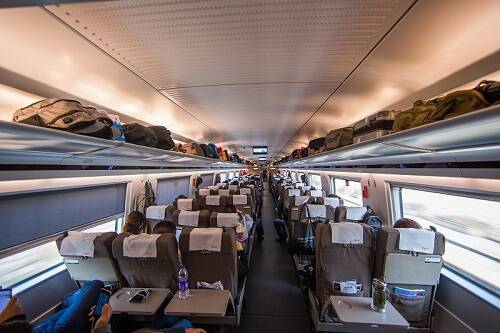 Train Carriage
The answer is No. For the concern of safety and health for all the passengers, smoking on the high speed train will get punishment by China Rail Police.
Actually it is not allowed to smoke anywhere on high speed trains or in the public areas on normal speed trains in China, Even for the electronic cigarettes. But you can do that on the platform when the train stop or at the smoking area of a normal train if you really want to.
As a substitute for cigarettes, although electronic cigarettes do not contain tar oil, they also contain other harmful substances such as nicotine, and it can be detected of the smoke detector of the train.
Once passengers break the rule, causing seriously affects for the safety of railway operation, the passengers will be imposed a fine between CNY 500 - 2,000 by the police and be barred from taking trains for 180 days by the China Railway Cooperation.
For the other severe consequences, such as the smoking behavior post a threat to the public security, or caused a fire, an emergency stop of the bullet train, besides the punishments mentioned above, the passenger will also be given a security detention with a maximum term of 15 days by the police or even be subjected to criminal punishments.
Why Smoking is prohibited on Chinese High Speed Trains?
There are 3 main reasons for why smoking is banned on Chinese high speed trains:
1.Firstly, The high-speed rail adopts a highly closed structure, and it adopts automatically control by computer and an internal air circulation system. So all the harmful substances causing by smoking may affect passengers health. Non-smoking area
2.Secondly, the running speed of bullet trains is fast. Around 200 km/h (124 mph) to 350 km/h (217 mph). It is difficulty to the fire rescue for this high running speed. When fires do happen, they are way more destructive than would otherwise be the case.
3.Third, now all types of high speed trains in China are equipped with smoke detectors in the toilets. And the detectors are connected to the automatic shutdown system. The system will carry out emergency braking to reduce the speed or to stop the train once the smoke alarms are triggered . This may cause late arrivals or even serious train crush accidents.
Where to Smoke on Chinese High Speed Trains? Beijing-Xian Train Schedule
Passengers can get off for a little while and have a cigarette on the platform when train stops. However, for some small stations there are only 2- 3 minutes for the stopover time. And the station staff will always urge you to move faster. Therefore, you'd better not go too far from your carriage and pay special attention to the broadcast of the railway station so that you can get on in time. We also recommended you check the stopover time of each station in advance to decide which station to have a cigarette before taking a long trip.
You can check every train route's schedule via our China Train Booking APP.
Where is the Smoking Area on Normal Trains?
The smoking area is located in the connection part of two carriages. It will be temporarily closed when there are passengers getting on and off. Or passengers can get off for a little while and have a cigarette on the platform when train stops.
Book Your China Train Tickets Online
You are recommended to use our website to book your tickets. Or you can download China Train Booking app below:
Other ways to book your China train ticket: How to Buy a China Train Ticket.
Further reading: