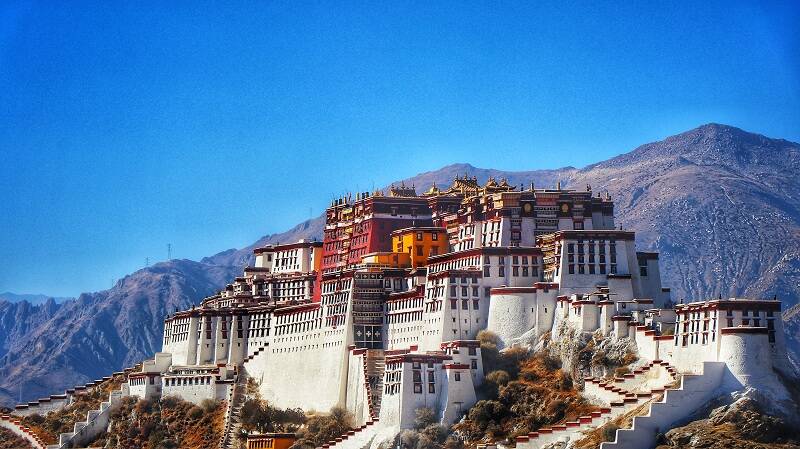 The Potala Palace at 3,700 meters
Many travelers dreamed to travel to Lhasa but worried about Acute Mountain Sickness. Acute Mountain Sickness (AMS), also called Altitude Sickness,is the biggest health risk to travelers in Tibet. For the people who used to living at a low altitude may very hard to avoid altitude sickness because you ascend to such a high altitude.
If you are concerned about altitude sickness when planning a Tibet tour, please read the following tips on reducing altitude sickness in Tibet.
Some Effective Measures to Reduce Altitude Sickness Train to Lhasa
1.We highly recommend you to take a train to Lhasa. You can experience the ascending altitudes gradually while getting to Lhasa by train , which could help you get acclimatized to the average altitude of 4,000 meters of the Qinghai-Tibetan Plateau.
2.Keep calm during the trip. Don't be scared of mountain sickness too much. Most people will be ok with adequate preparation and knowledge. And remember seek help from your guide in time when you are uncomfortable.
3.Try to move slowly even if you feel energetic. Usually we recommend travelers go no higher 300 - 400 hundred meters daily and have a rest after each 1,000 meter (3280 feet) ascent.
4.Don't overeat, You can drink more water and do eat more vegetables and carbohydrate food to keep the body properly hydrated. Don't drink alcohol or smoke.
5.You'd better not to take a shower in the first 2 days in case you catch a cold. It will depress the respiratory drive and worsen altitude sickness. Prepare Enough Medicine before Departure
6.Make sure you have prepare enough medicine before departure. Most mild AMS symptoms can be treated with proper medication. If you run out of medicine during the trip, you can tell your tour guide to help you get some more. Your tour guide will take you to a local pharmacy and prepare a free oxygen bottle in the bus/car in case you are badly in need of oxygen.
Most Common Symptoms of Altitude Sickness
Below are some common symptoms of altitude sickness. Nearly all travelers will experience one or more AMS symptoms upon their arrival in Tibet. Whether strongly or only slightly.
Headache ,dizziness and nausea
Weakness and fatigue
Loss of appetite
Shortness of breath and disturbed sleep
Some people feel like being sick
The symptoms will usually gradually decrease in severity during acclimatization. Mild AMS usually will not interfere with mild activity.
Severe sickness:  High altitude pulmonary edema (HAPE) and high altitude cerebral edema (HACE), Seriously it can be fatal. If so, immediate decline is the most reliable treatment.
Book Your China Train Tickets Online
You are recommended to use our website to book your tickets. Or you can download China Train Booking app below:
Other ways to book your China train ticket: How to Buy a China Train Ticket.
Further reading: