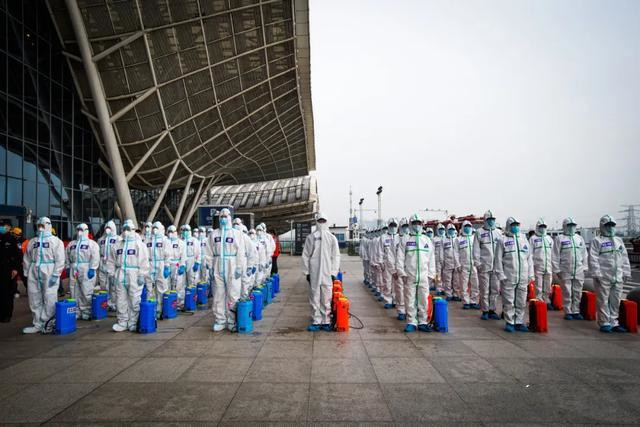 Pic from Wuhan Fire Brigade
From January 23rd to April 8th, Wuhan has been locked down for more than 80 days.
As reported, the existing case of covid-19 in the hospital has been cleared (by April 29th, 2020). People now are allowed to book train tickets from or to Wuhan.
Disinfection Messures in Wuhan Railway Stations
There are three railway stations in Wuhan: Wuhan Railway Station, Hankou Railway Station, Wuchang Railway Station. They are located in different area but all serve millions of passengers every year. Pic from Wuhan Fire Brigade
The disinfection was made by Wuhan Fire Brigade in the guidance of China Environmental Health Professionals with scientific managements and tools.
All the firemen entered in the train station have been recorded in the registration.
Detailed registration will help the government to track their health condition.
The key points in the railway stations that need to disinfect are those areas might be reached by passengers.
Areas in the railway stations, such as chairs in the waiting room, ticketing machine, elevators, etc, have been covered.
After 30 minutes of disinfection, all the places have been dried. Pic from Wuhan Fire Brigade
It took 2 hours to disinfect every cornor of Wuhan railway station, covering about 80 thousand square kilometers. Then the Wuhan Fire Brigade headed to Hankou Railway Station and Wuchang Railway Station to finish the other disfection.
What Does It Look Like to Take A Train from Wuhan
Passengers must present their "health code" and be checked temperature a couple of times during the whole journey.

Pic from Wuhan Fire Brigade

If you have no "health code", you must bring a document from your community to prove that you are healthy.
A passenger's temperature that is higher than 37.3℃ is not allowed to get in the railway station.
Book Your China Train Tickets Online
You are recommended to use our website to book your tickets. Or you can download China Train Booking app below:
Other ways to book your China train ticket: How to Buy a China Train Ticket.
Further reading: