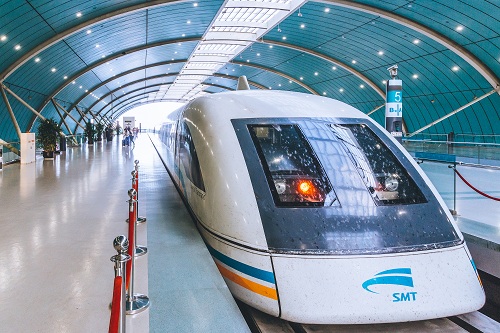 Maglev train
Shanghai maglev train is the first maglev train in China. It only operates between Shanghai Longyang Road and Shanghai Pudong International Airport. China started to build up the Shanghai maglev train line in 2000, while the high speed railway are not covered commonly in China.
Facts about Shanghai Maglev Train (SMT)
Route: Longyang Road - Pudong International Airport
Length: 30 kilometers
Duration: 8 minutes
Interval: 15 - 20 minutes
Max Speed: 430 km/h
First Train: 06:45
Last Train: 21:42
Ticket Fare: CNY 50
Where Does the Shanghai Maglev Train (SMT) Go? Shanghai Maglev Train timetable
The Shanghai Maglev Train connects Longyang Road to Shanghai Pudong International Airport. It is a non-stop train that only takes 8 minutes for the whole journey.
If you are going to the Pudong International Airport (PVG)...
There are four ways to go to the PVG: SMT, subway, taxi, and airport express. Though the terminus of subway line 2 is Pudong International Airport, transfer from a subway to the SMT is much faster.
Duration from Longyang Road to PVG:
SMT: 8 minutes
Subway line 2: 52 minutes
To ride on the SMT, you have to get to the Longyang Road Subway Station firstly. You can take subway line 2, 7, and 16 to arrive at the Longyang Road stop. After you get out of the station, the maglev train station is only 60 meters away.
If you are going to Longyang Road...
The departure maglev train station is located at the second floor in the Terminal 1 (T1) of Shanghai Pudong International Airport.
If you arrive at Terminal 2 (T2), please use the shuttle bus to get to T1.
Location of Shanghai Maglev Train Stations The platform for Shanghai maglev trains
Pudong International Airport Station
Location: Inside the airport, located on F2, Terminal 1
Operation Time: 7:02 - 21:42
Subway: Line 2
Longyang Road Station
Location: Located at the intersection of Longyang Road and Baiyang Road, near the Longyang Road Subway Station
Operation Time: 6:45 - 21:40
Subway: Line 2; Line 7; Line 16
How Much Is a Shanghai Maglev Train Ticket? Maglev train at maglev train station
Different type of ticket costs differently. Check how much is a SMT ticket below:
A one-way ticket: CNY 50
A round-way ticket in 7 days: CNY 80
A one-way VIP seat of ticket: CNY 100
A round-way VIP seat of ticket: CNY 160
How to buy a Shanghai maglev train ticket?
It's suggested to buy your Shanghai maglev train ticket at the ticketing counter of Longyang Road Maglev Station or Shanghai Pudong Airport Maglev Station.
The maglev train ticket is not allowed to book online in advance. Please bring your passport and some RMB cash with you or make sure that you have Alipay or Wechat Pay to book a ticket at the counter.
Usually the supply of maglev train tickets greatly exceeds the demand. You don't have to worry about tickets sellout.
How Fast Does Shanghai Maglev Train Go?
Shanghai Maglev Train is known as the world's fastest commercial electric train. Its average speed reaches 350 km/h and max speed can reach 430 km/h, making the journey of 30 km between Longyang Road and PVG less than 8 minutes.
There are only three countries that operate maglev trains in the world: China, Japan, and South Korea. Here is the chart to compare their speed.
| Country | Speed | Time to operate |
| --- | --- | --- |
| China | 430 km/h | 2006 |
| Japan | 300 km/h | 2005 |
| South Korea | 110 km/h | 2016 |
Facilities on Shanghai Maglev Train The seats on maglev train
Shanghai maglev trains are modern, new and clean. The on-train facilities are better than those of other types of high-speed trains.
The space is generous, there are only a few passengers on each carriage. There are two LED screens on both ends of the carriages, which show the current speed of the train, and passengers like to take photos of them.
Is It Safe to Travel on Shanghai Maglev Train? The track of maglev trains
Maglev train is considered as the most safe transportation in the world. Its technology has developed more than 50 years, since Germany has have started to research high-speed transit system in 1968.
Maglev train uses the technology of electromagnetic levitation to control the train and the guideway. Normally, the gap between the magnets and the guideway is ranged between 8 and 12mm.
After Germany has started to construct its first maglev train line in 1999, China decided to build the high-speed maglev line in Shanghai with the cooperation with Germany in 2000. However, due to a new forecast of a risk of huge losses, Germany has cancelled its domestic construction plan of maglev line in the same year. While China started to test our first maglev line in Shanghai in 2002. The Chinese Prime Minister Zhu Rongji and German Chancellor Gerhard Schroeder were among the first guests.
Since 2002 until now, Shanghai Maglev Train has served more than 50 million of passengers and runned a distance of more than 16.88 million kilometers.
Five Tips to Know before Taking Shanghai Maglev Train
1. Keep your ticket in bag during the whole ride. Maglev train tickets need to be recycled after you finish your journey. If you lost your ticket during the ride, you will be asked to buy a new ticket to check out.

2. Tickets can't be used within 5 minutes before the train departs. To ensure you can catch the train, please arrive at the check-in gate at least 5 minutes before  departure time.

3. Pets, dangerous and poisonous articles cannot be carried on the trains.

4. The weight of luggage carried by one person cannot exceed 23kg.

5. Tickets can be fully refunded before your train departs. Passengers need to go to the ticket center to get tickets refunds, the tickets should be valid and unused.
Other Maglev Train Lines in China
Changsha Maglev Train Changsha Maglev Train
Changsha Maglev Train Line is the second maglev line in China. It started to operate since 2016, and it was designed and developed independently by China.
Different with Shanghai Maglev Train, Changsha Maglev Train operates in low-speed of 100 km/h. If you need to transfer between Changsha South Railway Station and Changsha Huanghua International Airport, taking the Changsha Maglev Train is a good choice.
Route: Changsha South Train Station – Changsha Huanghua International Airport
Running Speed: 100km/h
Duration: 15 minutes
Total Length: 18.55km
Stops: 5 stops
Ticket Price: 20 RMB
Operation Time: 7:00—22:30
Beijing Subway S1 Maglev Line
Beijing Subway S1 Maglev Line is the second maglev line that operates in low-speed since 2017. The maglev train connects Jin'anqiao and Shichang.
Route: Jin'anqiao – Shichang
Running Speed: 120km/h
Duration: 22 minutes
Total Length: 10.2km
Stops: 8 stops
Ticket Price: 4 RMB
Operation Time: 6:25—21:00
Future Development of Fastest Train with 600 km/h Speed China Fastest Train
China started to build up its maglev railway that allows to operate a maglev train with the speed of 600 km/h in 2016. Once the new maglev line begins to operate, it will shorten the travel time between Beijing and Shanghai from 5.5 hours to 3.5 hours.
It's estimated that this fastest-ever train will be tested in end of 2020.
Booking Train Tickets on China Train Booking
China Train Booking is an app to book your China train ticket anywhere and anytime. It supports multiple languages: English, German, French, Spanish, Italian, Japanese, Russian. Also it allows to pay with international credit card, PayPal, Alipay, Wechat Pay. It is called a must-have app to travel to China by thousands of users.
Free trail here:
Further reading:
Hong Kong – Shenzhen/Futian High-Speed Trains
China High-Speed Train/Rail Guide
How to Buy China Train Tickets