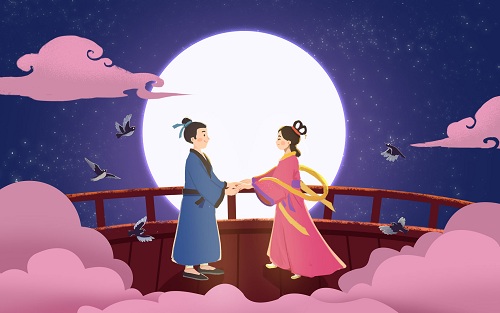 Weaver girl and Cowherd
The Double Seventh Festival,or Qixi Festival is one of Chinese traditional festivals, is widely known as a Chinese Valentine's Day. It's based on a romantic legend about Niulang and Zhinu (Weaver girl and Cowherd). On May 20, 2015, the Double Seventh Festival was added to the National Intangible Cultural Heritage list by the State Council of China. 
It falls on the 7th day of the 7th Chinese lunar month. There is no public holiday for this festival. In 2021, it falls on August 14.(Saturday).
Speaking of Valentine's Day, the western Valentine's Day on Feb. 14 prevails in China for years. But Chinese people attach more and more importance to Qixi, their own Valentine's Day nowadays. It is a sweet day for lovers and couples, they will have a date, exchange gifts on that day. And now some traditional activities will be hold in some place, these activities are very popular among young people.
Origin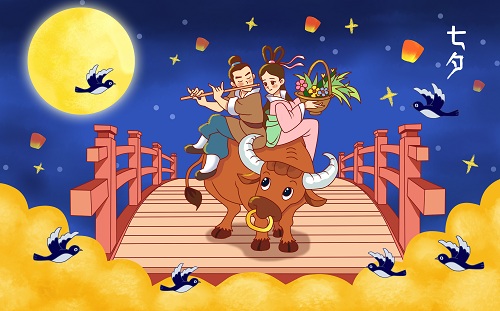 They meet each other once a year
Chinese already worshipped stars in ancient Prehistoric Times. They found that Niulang, referring to Altair and Zhinu, the Vega, on two sides of the Milky Way only meet each other once a year, so their reunion day was worshipped as a special day.
Besides, the most popular origin of Chinese Qixi Festival is originated from the legend of the cowherd and the weaver girl (Niulang and Zhinü). One day, when Zhinu and her sisters came down to the earth for a bathing, the two met each other. They fell in love at first sight, so Zhinu decided to break the rule and stay on the earth without permission, got married with Niulang and gave birth to two lovely kids. But happy time did not last long . Zhinu's mother, Xiwangmu, or known as Heavenly Queen Mother was so angry while she got to know it and sent heavenly soldiers to take Zhinu back by force. Seeing it, Niulang felt heartbroken and he carried their two kids to chased in a hurry. When Niulang was getting more and more closer, the Heavenly Queen Mother hurled her hairpin to create a river, the Milky Way, between them. Niulang and Zhinu cried so hard. This moved magpies and they flew over to form a bridge over the river for the two to meet in the center. Xiwangmu was also moved and allowed Niulang and their kids to stay in the heaven. But only allow the family reunite once a year on the 7th day of the 7th lunar month with the help of magpies.
The Ancient Traditions on Double Seventh Festival
The festival has been celebrated since the Han Dynasty (206 BC – 220 AD). It was very popular among young girls and there were various activities on that day. Here were some of the most popular ones and many of the them are disappearing.
Pray to Zhinu for Skillful Hands
On 7th day of the 7th lunar month, the birthday of the Weaver Girl. Almost all women in ancient China raised their families by weaving, So they would pray to her for skillful hands, which were considered to be the trait of a good wife. Besides, they also prayed for happy marriage, and conceiving a baby, etc. 
Appreciate the Stars & Tell a love story
On that evening, girls would wear new clothes and worship the moon, as in ancient Chinese concept, moon was the beauty sign for women. And, it is a special date for the Vega and Altair getting together, symbolizing the reunion of Zhinu and Niulang, girls sat together to appreciate it and told the love story to little child.
Make and Eat Qiaoguo (Qixi Pastry) Delicate pastries
There was a young girl who was sympathetic towards Zhinu and Niulang. She would make some delicate pastries and pray them could reunite smoothly in every qixi festival. The Jade Emperor was touched by her and ordered Matchmaker to find her a Mr. Right. After, more and more young girls made pastries on that day in hope of their Mr. Right and the custom of eating Qixi pastry formed. Nowadays, Qixi pastries are still popular in Shandong, Shanghai, Shaoxing and some nearby areas. The Shandong style are tiny baked pastries in animal or flower shapes while Shanghai style are fried thin twisty pastries. 
How to Celebrate the Double Seventh Festival Now
Nowadays, Chinese lovers and couples usually have a date on this Chinese lovers' day and they express their love by giving flowers, chocolates, or other handmade delicate pastries to each other. In recent years, more and more lovers choose to get married at a registry, or hold an ancient Chinese style wedding ceremony on that romantic day.
Further reading:
The Introduction of Food on Trains and Dining Cars around The World
Names List of Chinese Dishes of Chinese Cuisine
Baggage Rules of China Railway