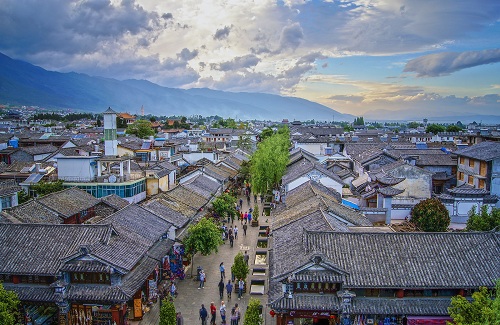 Dali Ancient Town
Lijiang and Dali are two famous scenic cities which located in Yunnan province. You can enjoy a perfect combination of amazing natural scenery, diverse ethnic customs, and a pleasant climate all year round in both of these places.
From Lijiang to Dali, the distance between the two places is about 160 kilometers. There are 4 normal speed trains run between them every day with the travel time of 2 to 2.5 hours. The price of a hard sleeper costs no less than CNY 69.5.And it costs only CNY 34 to purchase a hard seat ticket. 
VIP Room-A Special Compartment on The Train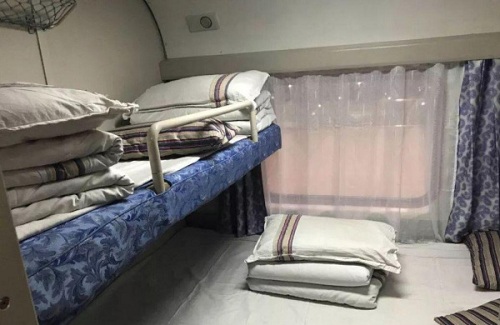 VIP Room
There is a special compartment called VIP room on Lijing-Dali line. For passengers who travel with companions can also choose to book VIP room ticket. It is more private and comfortable. There are 3 beds in a room, and the passenger who book the ticket can board the train with another two companions with a same ticket. The privacy of the VIP room is relatively good. It's suit for travelling alone, couples, partners, families, master and servant, colleagues or other close friends.
How to Use VIP Room Ticket?
1.Passengers need to pass through the manual checking lane firstly.
2.After checking your ticket, you can directly go to the VIP aisle.
Tip: One ticket can be accompanied by two people, the total cannot over three people. Please take all the all of your passports and get in/out the station at the same time.
Lijiang- Dali Normal-Speed Train Schedule
Distance: 157 kilometers (97 miles)
Duration: 1.5 - 2.5hours
Stations: Lijiang Railway Station,Dali Railway Station
Lijiang - Dali Normal-Speed Train Schedules
| Train No. | Time | Duration |
| --- | --- | --- |
| K9622 | 07:38 - 09:30 | 01 h 52 min |
| K9624 | 09:56 - 12:11 | 02 h 15 min |
| K9626 | 11:16 - 13:50 | 02 h 34 min |
| K9628 | 13:20 - 15:49 | 02 h 29 min |
Note: VIP room only available on train No.K9622 & K9628
Dali to Lijiang Normal-Speed Train Schedules
| Train No. | Time | Duration |
| --- | --- | --- |
| K9621 | 10:08 - 12:47 | 02 h 39 min |
| K9623 | 13:15 - 15:47 | 02 h 32 min |
| K9625 | 14:38 - 17:25 | 02 h 47 min |
| K9627 | 16:48 - 19:01 | 02 h 13 min |
Note: VIP room only available on train No.K9621 & K9627
To check more timetable train schedules, please download our China Train Booking app.
Lijiang - Dali Normal - Speed Train Ticket Fare
| Soft Sleeper | Hard Sleeper | Soft Seat | Hard Seat | VIP room |
| --- | --- | --- | --- | --- |
| CNY 150.5 | CNY 114.5 | CNY 49 | CNY 34 | CNY 328.5 |
Maps of Lijiang Railway Station & Dali Railway Station
Lijiang Railway Station Lugu Lake in Lijiang
Chinese name: 丽江站
Address: Shangji Village, Yulong County   (In Chinese:云南省丽江市玉龙县上吉村)
Transportation: Bus, taxi
Nearby hotels: Liting Hotel , Greentree Inn (Lijiang Railway Station Yuxing Road)
E-ticket: support to use e-ticket
From
To
Transportation
Time
Price
Lijiang Railway Station
Lijiang Ancient Town
Bus No.4
52 min
CNY 2
Taxi
30 min
CNY 22
Jade Dragon Snow Mountain
Bus No.16 - No.17
3h 18 min
CNY 3
Taxi
2 h 40 min
CNY 200
Wolong Panda Center
Taxi
26 min
CNY 65
Lijiang Railway Station map >>>
Dali Railway Station Three Pagodas of Chongsheng in Dali
Dali Railway Station is about 18 kilometers from Dali Ancient Town, 3 kilometers from Erhai Park (洱海公园). It operates both high-speed trains and normal speed trains to/from Kunming and Lijiang.
Chinese name: 大理火车站
Address: 261 Weishan Road (In Chinese:大理市巍山路261号)
Transportation: buses, taxis
Nearby hotels: Lavande Hotel, Travel Set Hotel , Siran Original Hotel
E-ticket: support to use e-ticket
From
To
Transportation
Time
Price
Dali Railway Station
 Dali Ancient Town
Bus No.8
53 min
CNY 3
Taxi
40 min
CNY 50
Erhai Park
Xiaguan (下关)- Haidong (海东) bus line
30 min
CNY 3
Taxi
13 min
CNY 10
Dali Airport
Taxi
28min
CNY 35
Dali Ancient City
Dali Ancient City is located in the northwest of Yunnan Province, south of Hengduan Mountain, under Cangshan Mountain and beside Erhai Lake. It covers an area of 3 square kilometers.
With a history of more than 500 years in the Tang and Song dynasties, Dali is the political, economical and cultural center of Yunnan. There are many cultural relics and historical sites in the ancient city. The city is well preserved, and those important ruins still can be seen. By 2013, there were 14 key cultural relics at or above the municipal level. It's about 17.9 kilometers from Dali Railway Station to Dali Ancient City. Passengers can take bus no.8 to get there. The duration is about 1 hour and 21 minutes.
Booking Your Lijiang - Dali Train Tickets online
You are always welcome to use our China Train Booking app to get your tickets within 3 minutes. We will make the process of booking a train ticket quite easy for you. Payment is also safe and convenient via credit card, PayPal, WeChat, and Alipay.
Further reading:
Kunming to Dali: Bullet Trains, Coaches, and Airplanes
Beijing–Xi'an High-Speed/Normal-Speed Trains
Baggage Rules of China Rail